I had the incredible privilege to be invited on a FAM by Tahiti Legends to the French Polynesian Islands. I had been to Bora Bora back in 2017 (funnily enough, my trip was booked through them!) but this was before my advisor days so returning and being able to visit a vast selection of hotels, get behind the scenes and enjoy activities was fantastic!
This is just the 'tip of the iceberg' summary with selected photos and videos chosen out of my 1000+ library. This destination is truly unique and I can honestly say, there is nowhere else you can experience the mix of culture and natural beauty with a French sophistication like Tahiti. The important part of being an advisor is having the roles reversed from time to time. This allows us to sit back and follow the lead instead.
We flew Air Tahiti Nui which is a popular option to start the Tahitian experience from the U.S. Aircrafts have been refitted so they are quite modern. Premium economy is substantially more spacious and offers a small cabin which is great.
We arrived in Tahiti at Papeete airport and we were greeted and transferred to our first stop. InterContinental Tahiti Resort & Spa has superb views of Tahiti's sister island, Moorea and is conveniently located only two miles from the airport. The majority of the main building's rooms have been renovated and I had a very comfortable stay with beautiful ocean views. There are two freshwater infinity pools and an extensive range of activities and complimentary services.
They have overwater bungalows as well which are cute. The sunset views from the property was absolutely stunning!!! No filters needed as you will see in the photo. There are a few F&B outlets, breakfast is buffet or a la carte and lunch/dinner has a few options. We dined at Le Lotus for lunch which is an intimate overwater restaurant with fantastic food and cocktails. Probably the best bread I have had in a long time paired with vanilla infused oil and vanilla salt was the perfect Tahitian touch! Te Tiare Restaurant offers a varied menu with lots of great options.
The island of Tahiti has quite a lot to offer whether you stay a few nights or have longer layovers. We explored a portion of the island and looked at waterfalls, a black sand beach loved by locals, the blowhole and some villages. They have markets for local shopping as well as some really good dining options. I was surprised at how many well-known and designer stores there were – it felt like a bit of Paris in Tahiti. Pearls are huge in Tahiti and you will find many stores in each town as well as many resorts.
We took the ferry to Moorea and arrived at the Sofitel Kia Ora Moorea Beach Resort. A really comfortable and easy way to get between these islands, the ferries are super convenient. Even their bathrooms are nice and you can order food and drinks if you're feeling peckish!
Moorea offers a very different feel to Tahiti and there is a lot to explore and see on land here. The Sofitel hotel has white sand beaches and has both beachfront and overwater bungalows. You can swim and do snorkeling right from the beach as well as other activities both in and out the water.
One of the highlights in Moorea was a food tour we did that was not only educational but also delicious. It was a behind the scenes experience to get to know where and what the locals eat. This foodie adventure tour took us off the beaten path of Moorea to experience island flavors from local vendors, cafes and restaurants that highlight the best of French Polynesian cuisine. The food in Tahiti consists of three cultures: Tahitian, Chinese and French and on this tour we discovered hidden culinary gems from all three of these backgrounds. I tried things I had never heard of and it was so tasty. We started with fruit at our first stop through to beverages and mini meals, sprinkled with amazing look out points. As soon as we stopped for photos, our wonderful guide would pop out with some kind of treat as we admired the beauty Moorea offers. It was at this point I was reminded yet again how important it is to have local insider knowledge that only our excellent partners have.
We flew to Tetiaroa for a stay at the amazing Brando property. Pristine and untouched, Tetiaroa is renowned for its beauty and most famous for its legendary owner, Marlon Brando. In 1965, Brando fell in love with the island of Tetiaroa while filming "Mutiny on the Bounty". Surrounded by a protective coral reef with no opening to the sea, Tetiaroa's lagoons are warmer than any other place in French Polynesia and serve as a natural aquarium that encompasses some of the richest marine habitats in the world. Only a short 15-minute flight from the island of Tahiti, this jewel is a 4.5 mile-wide atoll consisting of twelve motus. Thirty-five luxury villas are nestled along the beachfront – each with a private plunge pool. I am a bit of a tech geek and really appreciate sustainability so this really fascinates me – All villas are self-sustaining with renewable sources of non-fossil fuel energy and the resort is expected to achieve LEED Platinum certification.
An all-inclusive experience, guests can choose to dine at The Brando's two restaurants, lounge or bar. Room service is available 24 hours a day where you can enjoy a meal in the privacy of your villa indoors, on your private deck, or al fresco on your patio. It is hard to describe the experience here but secluded luxury is the closest description I have. Dining, service and the villas are just fantastic. The feeling and atmosphere here is something quite different. We did a private excursion (most activities are included in the rate) to an island to explore rare birds and see amazingly colorful crabs. We stopped at the famous spot where all the celebs and Instagram photos are taken, known as the Queens Bath. The sand is pinkish white and the royals used this sand to exfoliate their skin.
We moved on to possibly the most well known area of Tahiti, Bora Bora! We started at the Four Seasons which is luxurious and picturesque just as you would expect from this prestigious brand. Their overwater bungalows are beautifully decorated and their beach villas are lovely. I enjoyed a yoga class set outside with views of the lagoonarium. The food and beverages were really great and memorable, ranging from formal to casual dining in the sand, on the beach. Sandy toes while enjoying a meal – yes please! I was fortunate enough to stay in their three bedroom premier beachfront villa estate. Spacious and private, this estate's outdoor space is jaw dropping. A large private swimming pool, full outdoor kitchen, jacuzzi and secluded beachfront setting spanning over a full acre of pristine white-sand beach. Ideal for families and groups!
Next stop was The St. Regis Bora Bora Resort which is where "Couples Retreat" was filmed. If you haven't seen this movie, I highly suggest you do to catch a glimpse of the magic Bora Bora and The St. Regis have to offer. Their overwater bungalows are so spacious and thoughtfully designed. Ample space for a long stay with private outdoor space with or without a pool and easy access directly into the lagoon. The rooms can definitely do with a refurb which is hopefully coming up in the near future but the bones of the bungalows and beach villas are great. Their viewing panes throughout the overwater bungalows are spectacular to sit and watch fish and marine life. There is a lot to experience here and their restaurant, Lagoon is possibly one of my favorite places to enjoy the sunset behind the gorgeous Mount Otemanu.
There are many 'must do' activities in Bora Bora regardless of which hotel you end up at. I have done lots of snorkeling, scuba diving, ATV and jet skiing to name a few activities but another popular option is a day trip by boat to see the sting rays, sharks and enjoy a motu lunch on a private island. This is particularly special as the guides are so fantastic, casually playing music along the way and telling you about the areas you visit and the wildlife. The lunch is served on tables in the water with fish swimming beneath you. Definitely something memorable you will be talking about for a long time to come!
Le Bora Bora by Pearls Resorts is a Relais and Chateaux property that has just finished extensive renovations. The overwater bungalows are beautiful (their free standing baths are wonderful!) and the design throughout is unique including a lot of legends from Tahitians. I loved it! Their beach villas are also very special and well designed with private outdoor spaces. Since it is R&C we knew the food would be great and it was indeed.
Our final stop in Bora Bora was the Conrad Bora Bora Nui. It feels like a large, nicely spread out space and they have bungalows going up the hill which offer really great views of the ocean and lagoon. Their spa is also up on the hill with stunning views. They have several dining outlets and we enjoyed the ones we went to. Their overwater bungalows which would be my go to are nice, really nice. Large spaces with beautiful bathrooms and large free standing circular bath tubs, a walk in shower, separate toilet and double sinks of course. Our rooms were beautifully decorated upon arrival which was a great bonus. My bungalow had an infinity pool which was stunning to enjoy looking out at the sunset.
Last but not least we returned to Tahiti, did a bit more exploring and enjoyed the fully refurbished Hilton Hotel Tahiti for the day before our midnight flight home. The rooms are comfortable and tastefully done with everything you need. The lobby area is very nice, clean lines with a fun looking lobby bar. The pool looked nice, large with ocean views and this hotel offers several dining outlets. We enjoyed a fabulous last meal at the resort which is overwater on stilts.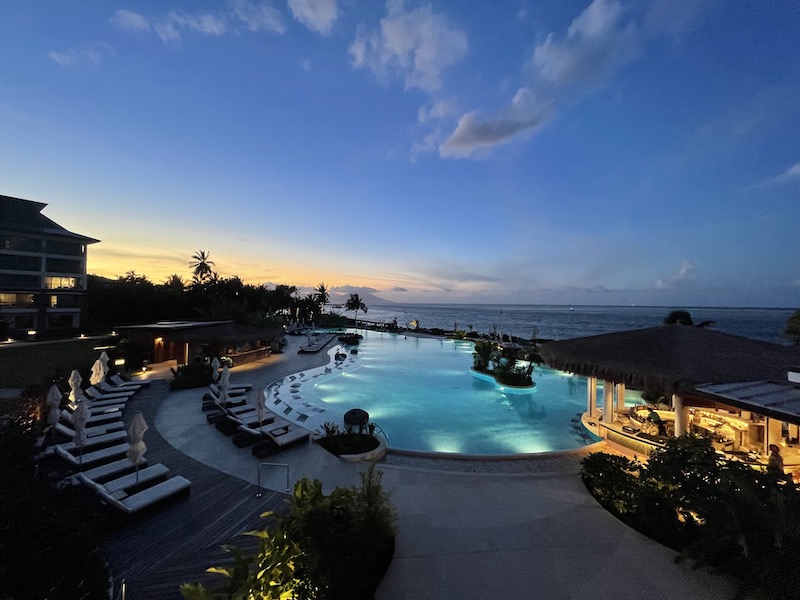 This is a dream destination that needs to be enjoyed a few times to be able to soak in all of the goodness it has to offer.
December 2023