The Ship: If I had to describe Silversea's Silver Endeavour in one word, it would be luxe-pedition. Silver Endeavour made its debut on November 19, 2022, and is by far one of the most luxurious expedition ships on the market going to one of the most awe-inspiring destinations yet. I was very impressed at its spaciousness and layout for a 200-passenger expedition ship that differs from a normal cruise ship in its compact size and functionality. Our Veranda Suite was modern and contemporary with a walk-in closet, floor-to-ceiling window that opened to a balcony, and all the technology and luxury amenities you could possibly need. I got to visit the Owner's Suite, the largest accommodation on board, and enjoy its spacious balcony with views wrapping around the front of the ship. As comfortable as the rooms are, the ship is truly designed for you to be in the common spaces taking in your surroundings. The ship is constructed with exceptional outward-facing design with several viewing platforms and outside deck space where many on board were crossing the illusive seventh continent off our bucket list.
Arrival: While traveling to Antarctica, I could not have asked for a gentler and smoother trip. Our journey with Silversea's Silver Endeavour was particularly unique and luxurious in that we took a two-hour flight over the Drake Passage straight onto King George Island, the entry point to the Antarctic Peninsula. This is a HUGE selling feature for this product as some may have reservations about going to Antarctica due to sailing the Drake, where waves can hit 30-40 feet and the journey is famously a bumpy one. Silversea truly did a phenomenal job in arranging our transfers – the logistics were seamless! We had a total of 149 passengers that were split into four separate flights with DAP Airlines out of Punta Arenas, Chile to King George Island. King George Island is the largest of the South Shetland Islands and is where most of Antarctica's infrastructure lives. The island has a population of around 500 people who work in research stations on the island represented by different countries around the world. In 1959, 11 different countries including the U.S. signed the Antarctic Treaty that banned military activity and promoted scientific investigations so that the country is owned by no one, nicknamed the "International Continent." After landing our aircraft on the gravel runway, we were seamlessly taken on zodiacs to where Silver Endeavour was positioned for only smooth sailing from there on out. By flying over the Drake, you not only skip seasickness, but you additionally gain up to four days that would be otherwise spent at sea – something to consider!
Antarctica: If you have cruised before, you know that ahead of time you get an itinerary that communicates what ports you will be visiting and can plan your excursions accordingly. This experience is quite different. In Antarctica, the weather determines where you go and what you will be doing day by day. Every evening at 6:15, we had a briefing in the Explorers Lounge with our expedition leader who, in collaboration with the captain, makes the decisions regarding where the expeditions are going to take place the next day and what they will look like. Our expedition leader was especially thrilled because the weather for our sailing looked amazing, meaning we would get to cross the Antarctic Circle – something many sailings cannot accomplish.
On the ship, everyone is separated into four color-coded groups that determine whether you will be with a naturalist guide on land, going out on a zodiac (a sturdy inflatable boat), or a combination of both. You could go out twice a day if you wanted! Silversea and everyone traveling in the Antarctic follows the Travel and Tourism Association guidelines that permit no more than 100 people on a landing at any given time. This makes it so that animal life doesn't feel overwhelmed or threatened by human presence – we never had more than 50 people on landings. During our time in the Antarctic, we saw only one other cruise line's ship and felt we made the best decision sailing with Silversea Cruises on the Endeavour because the ship was smaller and more intimate, making for lots of up close and personal adventures on board and on land.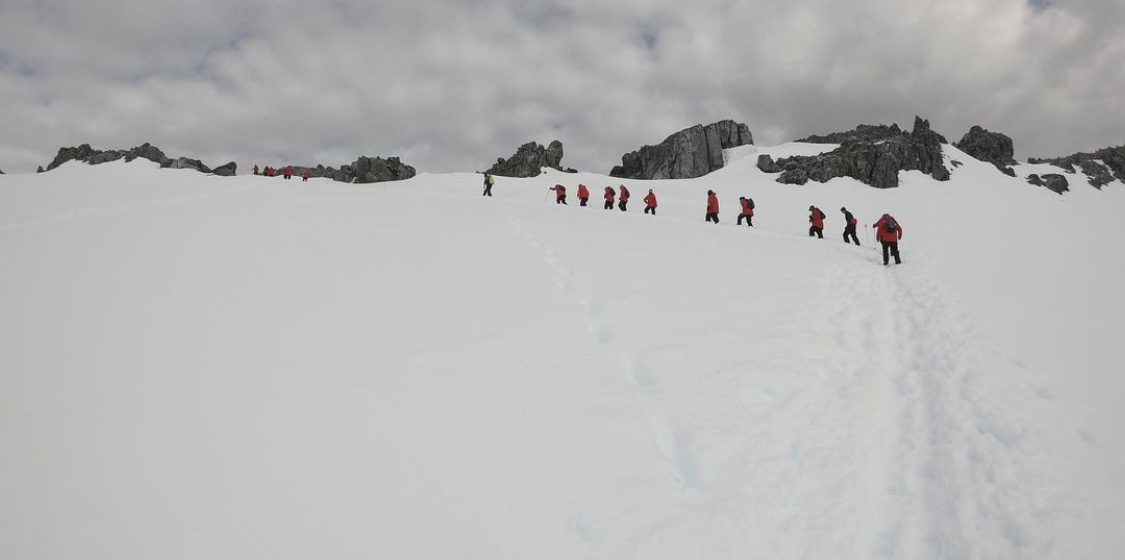 Speaking of wildlife, we saw a lot of it. We thoroughly enjoyed learning about and getting to watch the different types of penguins interact in the wild and how they all took care of their babies differently. The Adélie penguins build nests for their babies and once born both parents will leave to forage for food while the Chinstrap penguins (my favorite because of their formal look) stay one at a time while the other leaves. Looking up, we saw an Antarctic Skua diving for the penguin's babies and eggs – nature knows no kings in an environment like this. We saw many humpback whales and a family of Orcas and got a great picture of the baby Orca!
There were several multi-generational families on board where everyone from Grandma and Grandpa down to small children had something to do. During the day, there are lectures so that you are continually being educated in what you are seeing every day and can ask any questions you may have. I even saw one family that brought their homeschooled kids who took notes and were quizzed at the end of the lectures. The young adults could venture into the frigid waters and go kayaking while the seniors could enjoy the zodiac rides – at the end of the day, everyone was equally in awe.
You may be surprised to learn that on many days the temperature was in the 40s and the sun was shining extremely bright as it doubles in intensity off the white surroundings. That on top of continual sunlight from the never setting sun means you will be wearing sunglasses a lot.
Dining: It was no surprise that the food and service were at an exceptional level; staff on expedition vessels are a special breed, and they deserve recognition since they don't get a chance to go ashore during the sailing. On board, there were six dining options including three specialty restaurants, each better than the last. Dinner at the Grill is set over the pool, which drains in five minutes and becomes a dining venue at night with steaks, seafood, and Chilean sea bass. The dining room was huge and included an area for the Italian restaurant Il Terrazzino (this will be renovated in March) with fresh pasta that was to die for. Additionally, the French specialty restaurant, La Dame, had beautiful wine pairings and I would say is very worth an extra charge. Regardless of where or what you eat, the massive icebergs slowly drifting by the window as you dine make every meal one to remember.
Entertainment: On an expedition ship, entertainment is not the top priority, but it was still elegant on Silver Endeavour; I would describe it as lovely yet tastefully subdued. At the end of each day, after a plate of pasta, a few glasses of wine and all the exploring you did that day, you are exhausted. And with another morning of exploration with a call time of 7:30 waiting the next morning, you feel perfectly content with your rest-to-activity balance. You will not find a casino or elaborate show on a ship like this but instead, it was about having a lovely meal and enjoying the atmosphere and incredible scenery in every direction. We enjoyed a pianist from Ukraine and a classical guitarist that made the atmosphere lovely, and it is worth a mention that there is disco dancing space on the top deck for those who want to let loose a bit.
My Silversea Antarctic Airbridge sailing on the Silver Endeavour has now taken over the number-one spot for my favorite cruise ever! It will likely be hard to unseat its #1 spot because the beauty of the Antarctic is other-worldly.
December 2022