I was fortunate enough to visit New Tree Ranch which is a seven minute drive from beautiful downtown Healdsburg, Sonoma County. New Tree Ranch is a wellness focused haven that absolutely blew my mind. A summary phrase 'Regenerative Eco-Luxury Farmstay Retreat in Healdsburg'. I was not entirely sure what to expect as they are relatively new, but they exceeded my high expectations. I visited the last weekend in April, weather was perfect and I was excited to begin my retreat after a busy few months.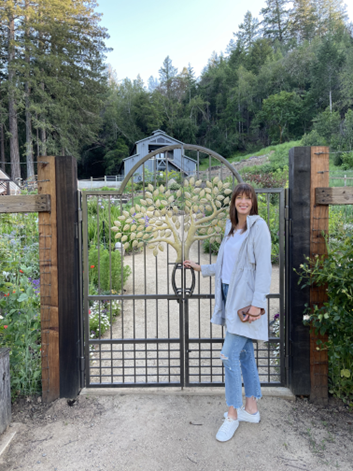 My husband and I arrived at our accommodations 'The Barn' which is a brand new, state of the art build with every detail beautifully executed. The Barn is off-grid, completely powered by solar, has its own water system and all of the food for the barn is grown on the property. It is self-sustained and has a 1200-square-foot indoor gym that opens to a beautiful redwood forest. You feel a million miles from the chaotic day to day life, yet everything you could need is a short drive or walk away. The barn house features two stunning en suite bathrooms with walk in closets and the entire home has high open ceilings with skylights.
The kitchen is fully appointed with more kitchen tools than I have at home. Complete with blenders, instant pots, a slow cooker… you name it, there is a high-end version of it. The kitchen has a farm sink, Wolf stove and oven, and you do your dishes overlooking 100+ year old redwood trees. The kitchen was stocked with amazing foods and products straight from the farm. The bath amenities are all locally sourced and beautifully presented in glass containers. The linens are all Frette, the farm is virtually fully self-sustainable, complete with solar panels etc. etc.
Before arrival you complete a document outlying your ideal goals for the trip which could be mental, physical wellness or just an amazing vacation. They are very family friendly and there are endless things to do on property. There are beautiful, manicured gardens where you can help source your own meals (HOW AMAZING IS THAT?!?!) and everything tasted so much better than any organic produce I've ever purchased.
There is a fitness trail, fully equipped state of the art fitness center, forests for hiking, a dam where you can kayak, stand up paddle, swim…. We did a Sound Journey that was my first and I will never forget the insanely special experience. If you've never done a sound journey you should try it asap! You are guided through meditation with these special bowls and an instrument that your guide uses to stroke the bowls. Each makes a different sound and frequency. It takes meditation to another level, it is so calming and relaxing. They have horses, chickens, goats and two of the most beautiful cows! I toured pretty much the whole property and I would suggest a minimum stay of six nights. You can also enjoy activities like a chef who prepared the most wonderful meal in our garden in the outdoor kitchen. We chose to help find some produce with the chef to be interactive. The food during our stay was phenomenal in quality, taste, and presentation. They offer plant-based foods although if you want to enjoy meat, you can easily bring that along and prepare it in your kitchen to complement it with the rest of the options. I got freshly laid eggs from the chicken coop which was a first for me!
We did massages in a teepee overlooking the fields blowing in the wind, with natural vegetation, goats, and horses in the distance. It felt like a movie – too good to be true! They have two free standing outdoor tubs for pre/post massages with luxurious bath products for a seaweed bath and facial. The best way to describe this experience is luxurious wellness. I have never seen or experienced truly authentic wellness like this and they have elevated it all with high end touches. Internet and Wi-Fi was excellent if anyone needs to work or stream movies.
This property is perfect for open-minded, luxury travelers with high expectations needing TLC, fun family time, a boost or reset. You make it what you need it to be, and the owners of the property will guide you through options. I loved my time here and can't recommend this haven enough!
May 2022