Working remotely has empowered my husband and I to see the world. With this in mind, we wanted to spend a month somewhere we had never been. Somewhere that made economic sense, is family friendly, and a destination other than Europe as we had recently spent time in Italy. My husband is Mexican so Latin culture has always been appealing as it is the fabric of our life. With our choice of South America narrowed down, one place we had yet to visit was Argentina, more specifically Buenos Aires. After gaining its independence from Spain in 1816, the city drew inspiration from European countries like France and Italy to help build its urban landscape from the ground up. Between 1857 and 1946, 261,020 French people immigrated to Argentina and around the same time over two million Italians! A walk through the city, specifically the Recoleta neighborhood, and you may think the plane flew too far east. Now known as "The Paris of South America", Buenos Aires is full of walkable cobblestone streets, Parisian-style cafes and architecture, world-renowned museums, and A LOT of parks.
Parks are a way of life here. Buenos Aires is such a large city (3.5 million people), that a typical day includes grabbing a mate and communing, playing, and basking in the sun in one of the many green spaces – some of which rival Central Park. Did I mention we also brought our then 20-month-old daughter who enjoyed a different park every week? Mate is the national beverage of Argentina and is a caffeine-rich tea made from finely chopped green leaves. This drink is revered here and you can find it at most restaurants with varying levels of presentation. One of the great things about Argentina is that there is something for everyone. During our month-long stay, my 70-year-old parents came to stay with us and had just as much fun as our good friends who followed in their early 30s. The city is easy to navigate, and the people are so kind and willing to accommodate small children. We went in early August, which is a low tourist season, but the streets still bustled with people, and we heard more Spanish than English which is always preferred for a more authentic experience.
Below, I wanted to share some of my favorite things, and two site visits I did while in Buenos Aires.
Tónico Café
Every day I had a cappuccino and the best (and my favorite) was at Tónico Café. This cozy coffee shop is in the walkable Recoleta neighborhood which heavily influenced the city's nickname "The Paris of South America." A chocolate croissant was always ordered in addition to traditional Argentian medialunas – a soft crescent roll slightly smaller and sweeter than the French version. The staff was so incredibly sweet that we ended up hugging them when we left – a small representation of how kind the people are in Buenos Aires.
Don Julio
Don Julio is a classic steakhouse located in Palermo in a former butchery and is one of the most famous restaurants in all of Latin America. There will always be a line out the door, but the restaurant is truly worth all the hype it receives. The menu is simple; grass-fed beef, fries, salad, and a stunning wine list. We had multiple cuts of steaks and the roasted cauliflower I would wait in line for over and over again.
El Ateneo Grand Splendid
This bookstore is housed in the beautifully preserved, 100-year-old Grand Splendid Theater where the most important tango singers and musicians once performed. The stage and balconies have been converted to seating areas for people to drink coffee and read. Even if you are not a reader, the interiors are worth the visit!
La Recoleta Cemetery
While visiting a cemetery may not fall high on your list of things to do on vacation, La Recoleta Cemetary is something special. The graves of notable Argentinian people are buried here including former first lady Eva Peron, past presidents of Argentina and Nobel Prize winners. Walking around the stunning mausoleums felt like walking through an open-air museum that gave insight into the history of the country in a unique way.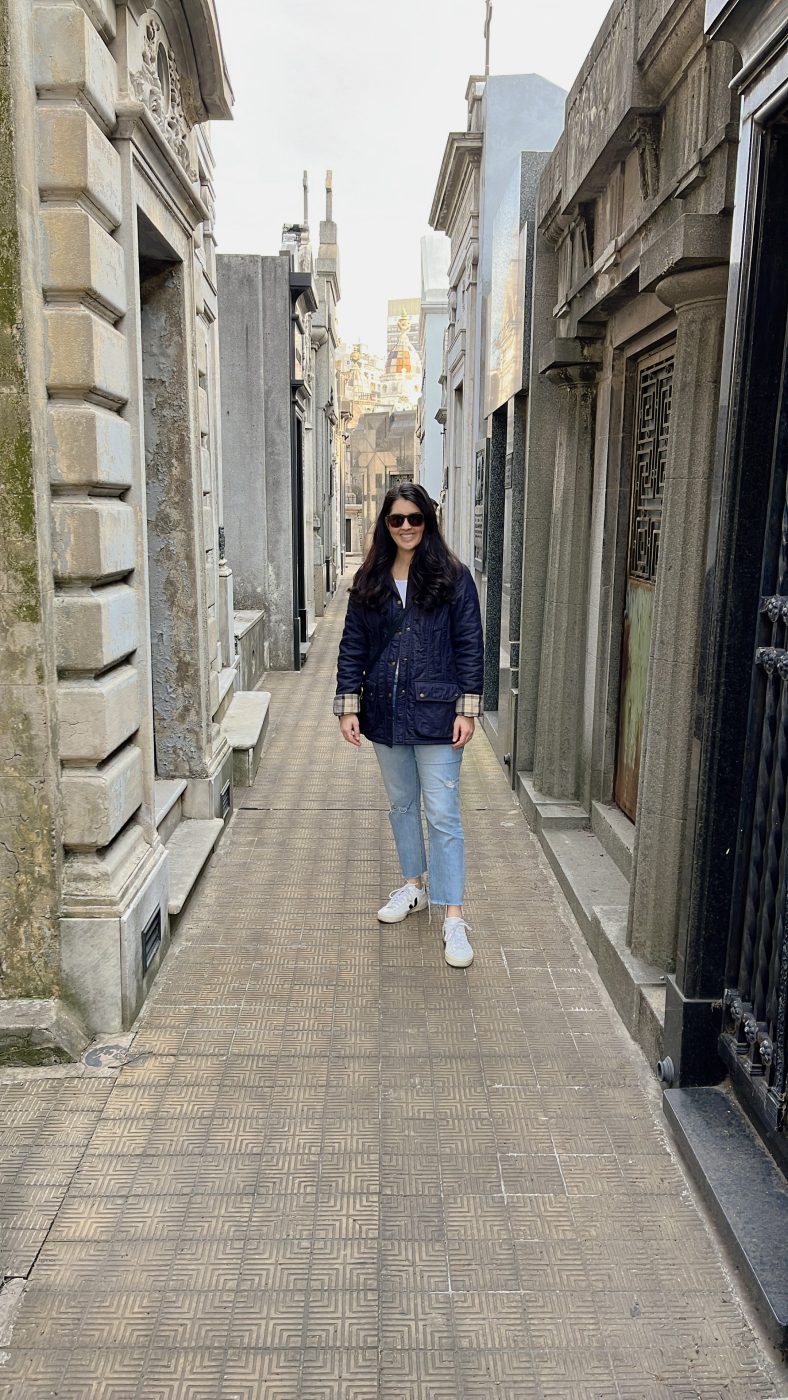 Sottovoce Restaurant
With over 60% of Argentinians claiming some percentage of Italian ancestry, the city's cuisine has a heavy Italian influence, and it shows. The Recoleta neighborhood is brimming with incredible cuisine, but Sottovoce we visited three times because the pasta was that brilliant. This restaurant is also quintessential Buenos Aires, with the locals dressed effortlessly chic, white table clothes, an incredibly friendly staff – and not to mention the extensive wine list, it's a must.
Museo Nacional de Bellas Artes
The Museo Nacional de Bellas Artes (National Museum of Fine Arts) is home to Argentina's largest, and arguably most important collection of fine art and is completely free to the public! Midday in the middle of the week, you will find virtually no crowds and get front row seats to some of the most brilliants artists from Rembrandt to Van Gogh.
Caminito
Located in La Boca neighborhood, Caminito is a unique street museum of colorful houses showcasing the lifestyle of immigrants in the late 19th, early 20th century. Today, there are tango and folk dancing shows in multiple restaurants and local artists selling original crafts and paintings.
Four Seasons Buenos Aires
Perfectly located in the Recoleta neighborhood where there are plenty of shops and restaurants nearby that you can easily explore by foot, especially if you enjoy architecture – it's worth getting lost within the neighborhood. The Four Seasons Buenos Aires is broken into two buildings – a modern contemporary high-rise, and an antique early 20th century mansion. The owner of Four Seasons Buenos Aires owns a polo club (which we learned is a HUGE part of Argentinean culture) and you can feel the inspiration walking through the hotel. We ate lunch at Pony Line in the main tower which is decorated with leather details and nods to polo aesthetics with sitting areas mimicking horse stalls. I had the burrata sandwich and my husband had the "best burger in the city." Within the mansion, there is a more elegant and traditional feel – quintessential, luxury Four Seasons if you will. All of the suites are decorated differently with real antiques and interiors reminiscent of 18th-century France.
Park Hyatt Buenos Aires
Only five-minutes down the street from Four Seasons Buenos Aires, Park Hyatt Buenos Aires is similarly broken into two buildings – one of upscale contemporary design, the other an aristocratic palace. They have a stunning garden area connecting the two structures that make for a perfect stroll if you're having a meal in one and staying in the other. Here, we had high tea overlooking the gardens in the beautiful historical building. They also have a solely dedicated vegan restaurant on site, along with a beautiful spa and the most fabulous homemade pastries that captured the essence of Buenos Aires.
August 2022