A hot swift breeze whipped through the windows and the sound of late summer's diurnal crickets made music for my ears; I stayed straight onto Alain White Road knowing Winvian Farm was near. The property is tucked in one of Connecticut's quietest corners behind a beautifully simple entrance, a perfect location for a peaceful respite or base for an outdoor adventure. While boasting plenty of extrinsic charm, its internal beauty is that a stay here can be as much or as little as you desire, and in my case a feast from the farm and 19 hours in the quiet of the countryside were all I craved.
Pulling through the gate is more like driving into a quaint neighborhood you never want to leave. Mature maples flank old stone walls on either side of the main road and create a such a magical tree tunnel that I'll admit I imagined it were October, not August. (Next trip, I thought.) Gazing up at the canopy I turned into the welcoming courtyard adjacent to the antique Manor House and got the lay of the land. "Camping", my cottage for the night, was just down Orchard Lane, at the wooded end of this dirt and gravel road. It's hard not to be delighted simply by the sound of an unpaved road under one's tires! A sense of removal greeted me at the cottage door. I felt seclusion without being alone, serenity without truly being too far off the beaten path.
As an outdoorswoman and lover of sleeping under the stars, Camping was right up my alley and was recently refreshed to boot. The exterior complements the forest it's nestled into without being a cabin, and the interior utilizes natural textures, earthy tones, garden-inspired architectural elements and natural inspiration to create an inviting and luxurious space. The large main room includes a king-sized bed, table for two, and writing desk. Two plush leather oversized armchairs and ottomans sit perched near a gas fireplace and in front of the expansive floor-to-ceiling window framed by faux tree branches. And as my eyes were drawn again into the trees, I could only begin to imagine the hold that the sight of autumn's golden hues would have in a short time.
The visual treats don't stop at the ceiling, however, as Camping's arched deep blue ceiling is artistically splattered with gold stars. French doors next to the bed pulled me onto the screened-in porch outfitted with rocking chairs and a beautifully appointed stone fireplace; with logs at the ready I only wished we weren't in the midst of a heatwave.
Walking into the bathroom concealed by double doors I was immediately at ease: a spacious rain shower and jet tub with forest views would make life's quotidian clean-up not just a pleasure, but an activity. Hand-painted evergreens on soft blue walls pulled the outdoors in, and my breaths became slower, as if on cue.
Despite the calm emanating from every corner of Camping, a dip in the pool was in order on that hot summer day, and I barely let myself dry before a pre-dinner soak in the most tranquil of tubs. In this world of speed and instance, it's amazing what happens when we allow ourselves the opportunity to be a tortoise. I once read a book on mindfulness which emphasized the practice of doing only one thing at a time, thereby teaching us to truly enjoy that singular activity. So I took a bath, just a bath. A long, luxurious, bubbly bath, where the silence of the room was broken only by the sound of splashes and their quiet echoes. Where my thoughts were interrupted only by other thoughts, and the view of the forest was out of sight only when I blinked. Sometimes we need moments like these to re-instill the value of being still, calm, and attentive; Winvian was already proving to be the ultimate in leading the way.
I strolled to dinner under the golden light of late afternoon, admiring the gardens and silo within sight of the terrace. There is something sort of surreal about knowing exactly where much of the food I was about to enjoy was from and it again highlighted on the de-emphasis at Winvian our culture's need for speed. The terrace is intimate, with just six tables available for dining. Sitting at the back corner of the Manor House with views of the property it provided a supremely inviting vibe, akin to an al fresco dinner party at a close friend's home.
With impeccable service and farm-to-table food, Winvian Farm provides the absolute best of the local culinary world to its guests. Earlier in the evening I noticed staff hand-picking herbs from the garden, and when a sprig of mint garnished my lemon verbena mojito, I smiled knowing just where it came from—and when. For the record, it was the best mojito I've ever had. In fact, start to finish, my meal was one of the top three meals I can ever remember enjoying. The key is remembering, but dishes truly capable of making an indelible mark do so naturally and effortlessly, without discussion required to create the memory.
A delicately presented amuse bouche of chilled farm-fresh tomato gazpacho with a little kick was quite the preview in its charming miniature glass teacup, and the depth of flavor in the artfully prepared Summer Salad's produce was both unexpected and exquisite. Individual petals of edible flowers placed meticulously on various components of the dish were the cherry on top of a vegetable garden's work of art. Red wine and summer berry granita accompanied by a shot of lavender lemonade cleansed my palette before a roasted Berkshire porkchop proved further that culinary mastery was had by Chef Chris Eddy. An indescribably delicious 13-ingredient dressing enveloped freshly picked green and waxed beans and my waiter agreed that Winvian should absolutely bottle it. Nearly finally, I was treated to not one, but two desserts, the second of which was served to me by the lovely pastry chef herself, and by doing so her passion and artistry was all the more evident. A poached aprium (a hybrid of an apricot and a plum) was drenched perfectly in its own reduced poaching liquid and accompanied by the garden's own blackberries; summer's deep red cherries were presented with a yogurt cremeux, almond mousse and blackberry sorbet. Divine! Slow and steady wins the race, and while shocked I had any more room in my delighted belly, an encore of bourbon truffles closed the curtain.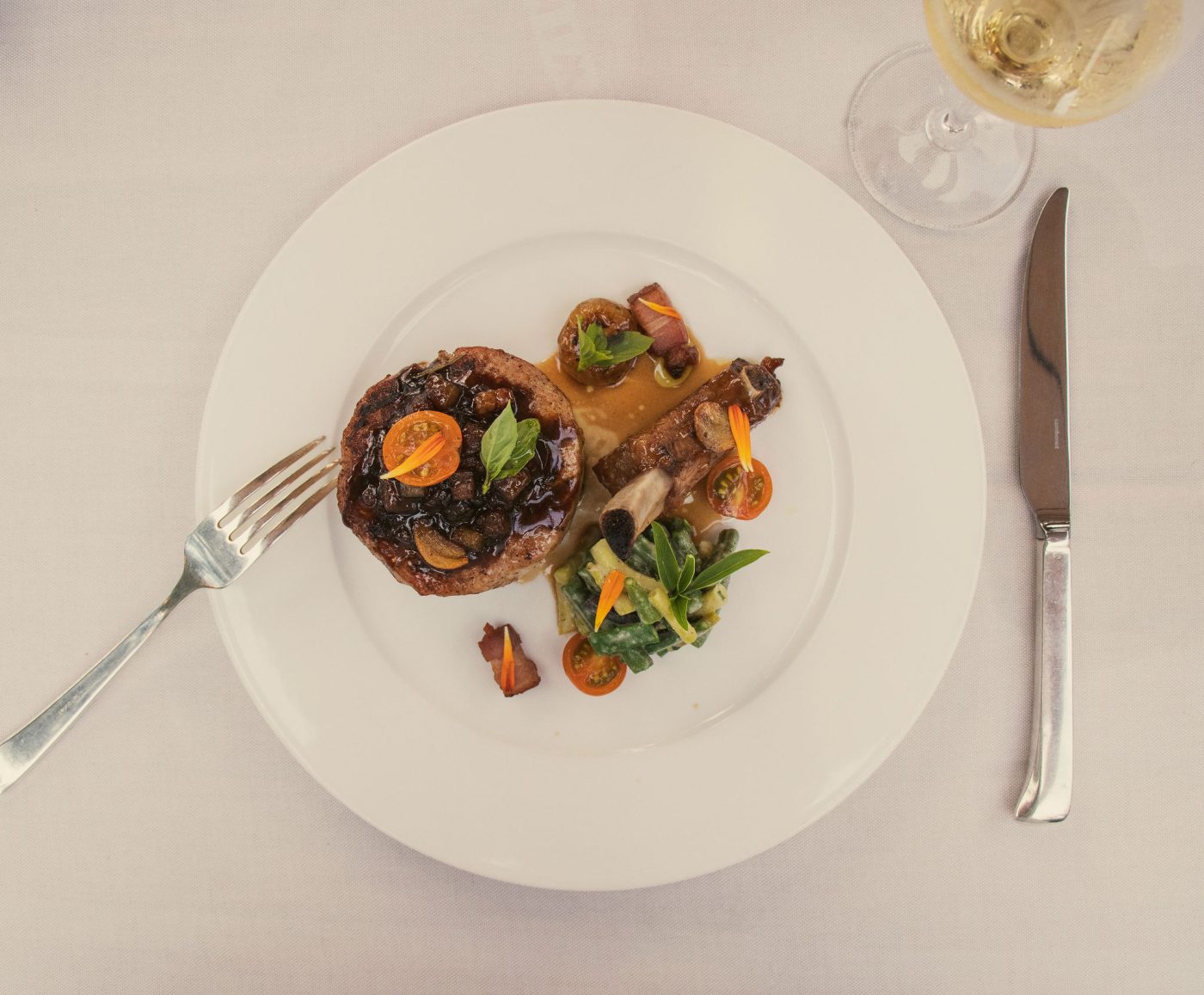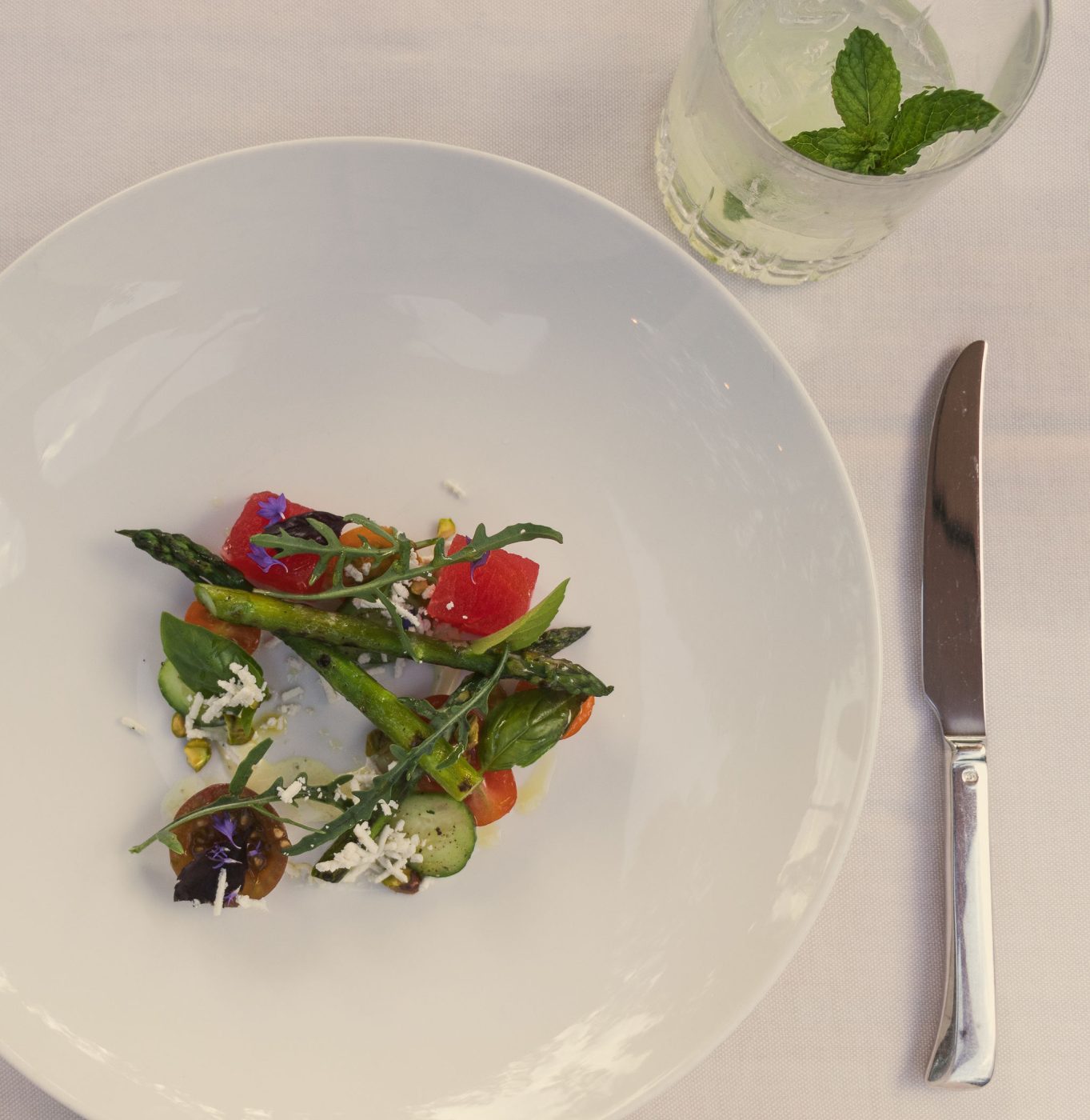 The crickets sang softly near the terrace dimly lit with strung Edison lights, and as I wrapped up my two-hour solo dinner, I felt that my experience at Winvian had so far felt more like a bucolic fairytale.
When I arrived back at the cottage, my favorite little luxury, turn-down service, had been completed. I changed into my cozy jammies and plopped myself in one of the armchairs unsure if it was the wine or the glow of the fire making my eyes heavier by the second. It would've been easy to collapse in one of these great big chairs—they were the equivalent of a great giant holding me in its arms—but I picked myself up knowing an entire King was waiting for me, just me.
Morning broke slowly through the window to the forest and the soft pink light of dawn drew me to my feet. Out the front window a light mist hung in the air over the property and the undisturbed silence of the early hours made the morning almost feel like a secret.
Luckily for me, I was in on said secret and it involved a cup of tea on Camping's screened-in porch. In between the main living area of the cottage and the bathroom are a closet, bureau, and small desk area opposite which is a lovely and generous wet bar. Nespresso coffee, Harney & Sons tea and an electric kettle, small but full-sized bottles of liquor plus a mini fridge leave no stone unturned. True hospitality is often in the details though, and a small carafe of milk had already been left covered in the fridge.
Morning has my heart for many reasons, but when it's enhanced by the undisturbed tranquility of nature and surrounded by its chorus, it really is something I prefer not to share. Alas, hunger finally took over. I hopped on one of the complementary bikes outside the cottage and took to Orchard Lane, stopping to admire the gardens from different angles, noticing the berry patches, tomato rows and bees that made its bounty possible.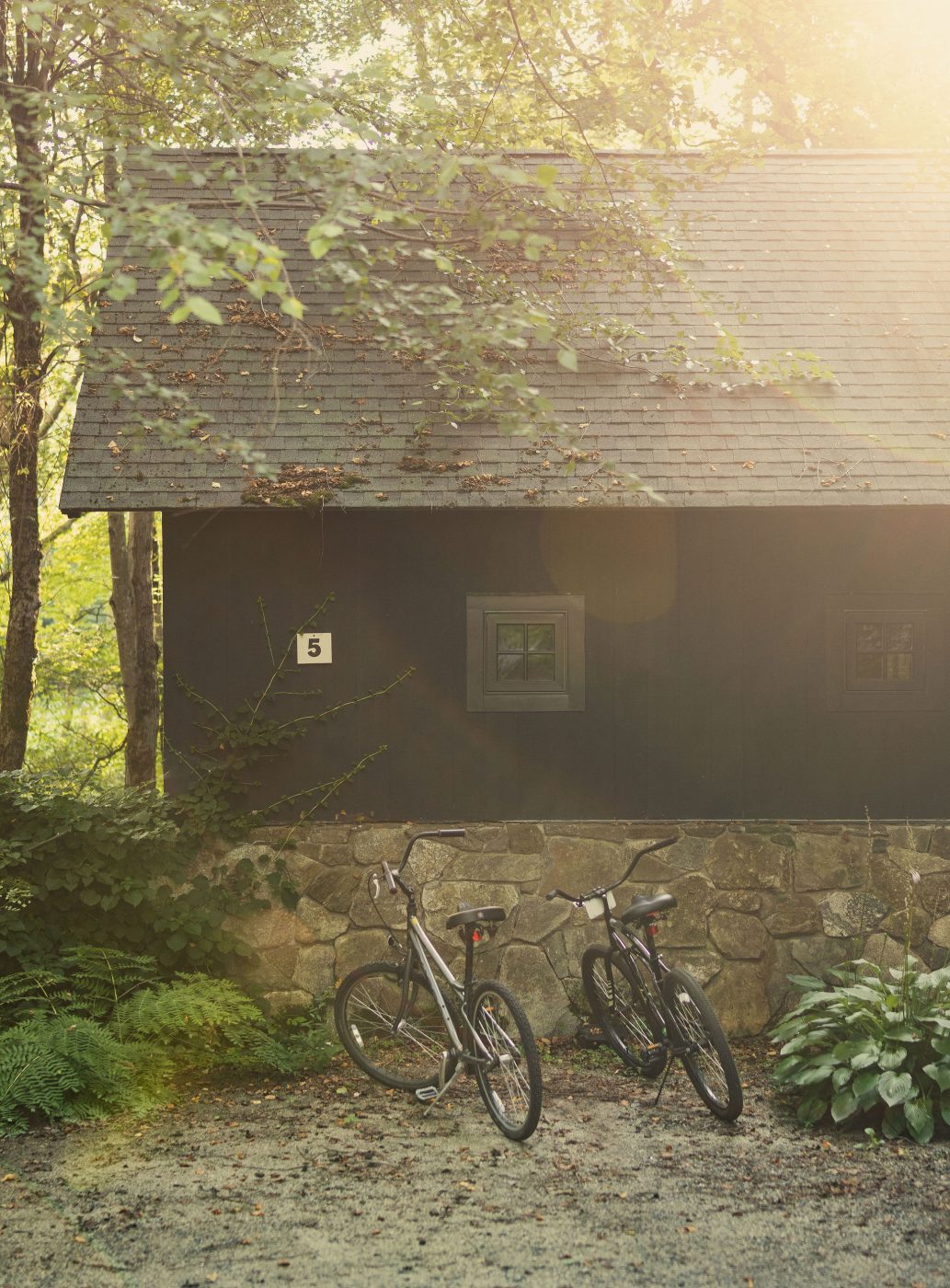 I enjoyed a delightful breakfast on the upper porch overlooking the gardens and lawn where I was surprised yet again. What is breakfast without a little treat to kick the tastebuds into gear? Warm glazed donut holes and wild blueberry jam couldn't have been the better accompaniment to my rare cup of coffee. For those who are gluten-free (like I am) or vegan, these sweet little treats not only suited both diets but tasted like they were chock full of the "good" stuff. Fluffy fresh eggs, local bacon cooked to a perfect crisp, and toast spread with that finger-licking jam energized me for one more ride and one more stroll through the bountiful summer gardens. Encouraged by my waiter, I tasted a berry or two here and there, a reminder of my youth when bike rides through the neighborhood were punctuated by ripe pink-red taste-tests and berry stains on my shorts.
The sun was high and the weather was hot, but I could stretch right up and touch the sky. I hummed Mungo Jerry's summer anthem in my head as I pedaled through the hot August breeze, flyaways flying with not a care in the world. That is, except wondering when I'd be able to feel autumn's cool breeze as I traversed the same graveled lane…