Winding through the Hudson Valley by any mode of transport is a bucolic endeavor, and the deep green canopies indicative of the heart of summer blanketed me in shade as I came out of Amenia's center. I knew not what to expect, but Troutbeck's unassuming entrance, a gravel road that at first glance looks more like a private turn-off than the entrance to a luxurious property, had me at hello. Rolling over the Stone Bridge provided the immediate impression—a pull even—that I was to spend the next nineteen hours enjoying life as we did before various electronic devices were staples in our bags.
Afternoon light filtered through the sycamores in front of the Manor House, highlighting the perfect patina of the 1919 building's stone façade and adding an almost diaphanous magenta glow to the roses nestled against it. The front door swung open as if on cue, and I was welcomed into the foyer, into a brief escape. It's apparent that the house was once a home, almost commanding by whisper that you explore every room, enjoy every nook and cranny, sit and stay awhile. Serenity, history, and quiet abound so peacefully they may as well be the air; it enveloped me naturally and invisibly, filling my lungs.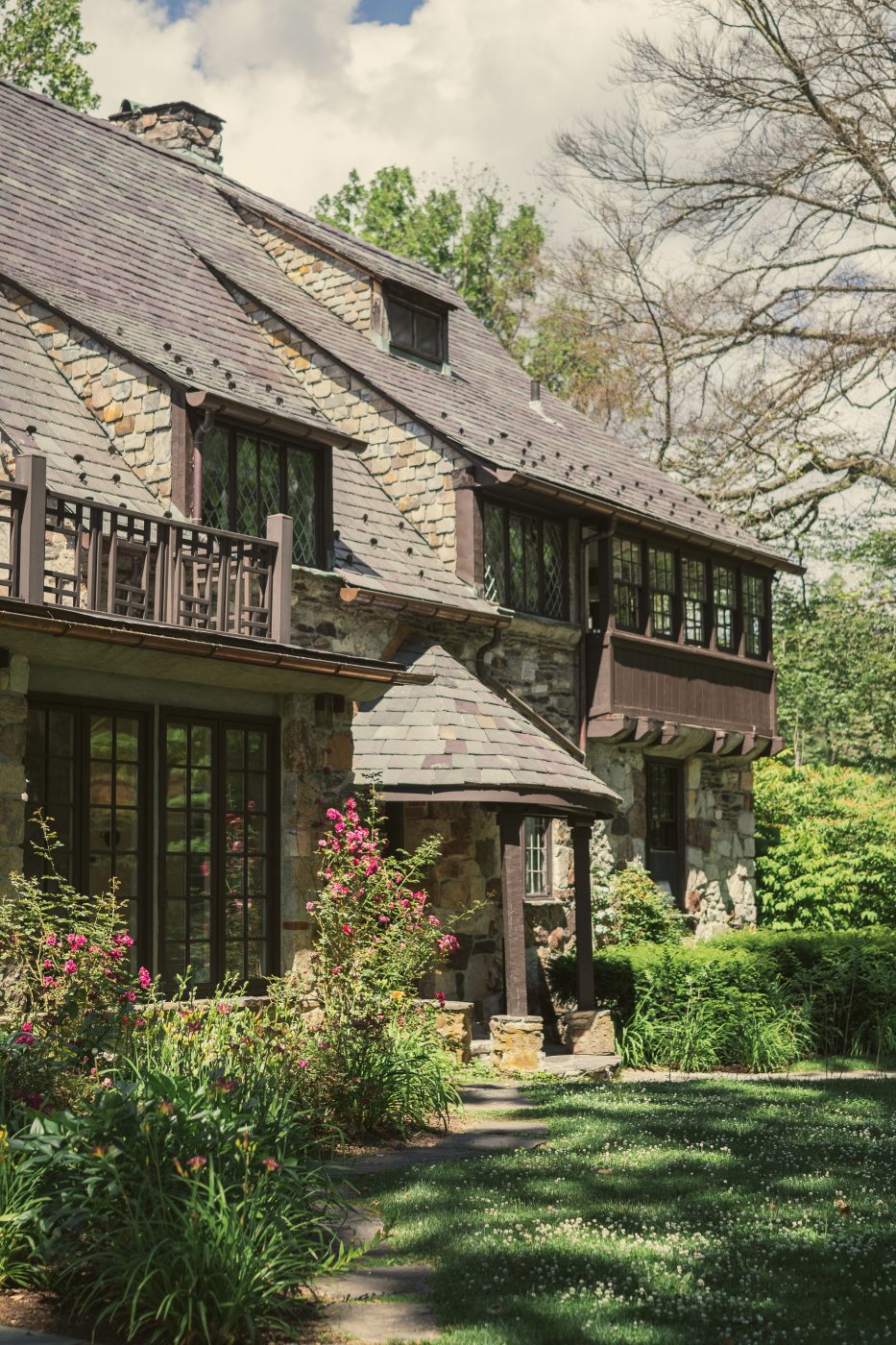 As I peeked out each window en route to my room, I knew the first item on my complete lack of an agenda was a long and slow stroll over the grounds (not to mention a thorough appreciation for the subtle architectural details of the Manor). The grounds aren't huge, but just large enough to take long enough, to allow you to get mentally lost while meandering down the stream from Adirondack chair to Adirondack chair, testing each hammock and maybe even deciding to dip your toes in the cool running water. The Dunham Creek and Webatuck River are peppered with sitting and swaying areas: Adirondack chairs around tables and hammocks hanging between trees blend effortlessly with the natural environment, and I was made to feel that nature and solitude were wooing me into submission.
Despite being well-kept, the grounds don't feel forced. Even the Walled Garden maintains its own air of wild freedom, and walking through it felt more like I'd stumbled upon Francis Hodgson Burnett's Secret Garden, just missing Mary and Colin's daily outing. As the late afternoon sun hung lower in the sky, its light sifted by foliage and scattered over the stone walkways like gold confetti, it was impossible not to sense the property's past at every turn.
The best walks are those leisurely promenades that encourage a forgetfulness for time, and if it hadn't been for the gently softening light, I'd have missed my dinner reservation all together…and what a regret that would've been! Known for its culinary prowess, Troutbeck's chef offers even the most discerning foodie exquisite and artfully presented dishes, focusing on local and seasonal ingredients wherever possible. The intriguing menu made my choice difficult, but perhaps as a result of my jaunt to the garden and my outdoor dining table overlooking summer's verdure and the sound of a babbling fountain, I felt especially inspired by summer vegetables. Charred carrots prepared with sheep's milk yogurt and seeded crackers, accompanied by a creamy cold asparagus soup topped with tender snow crab proved perfect—and all I would need in order to save room for my favorite course.
It is simply impossible that I will do this dessert justice by my description, so I sincerely hope some fabulous food writer and photographer comes along and can do the job not suitable for me. Presented as the sweetest bee skep, an almond ricotta cake was domed with sour cream mousse and wrapped in meringue, burnt delicately and leaving the striations around the skep visible. On its top "flew" apricot bees with sliced almond wings, and delicate dollops of lemony honey dropped on the plate gave an air of whimsy to a treat I almost didn't want to put my fork into. Needless to say, if Troutbeck were within a reasonable driving distance for just-dessert, I'd skip the usual summer-night run for an ice cream cone all together, barely avoiding a speeding ticket through the rolling hills of the Hudson Valley.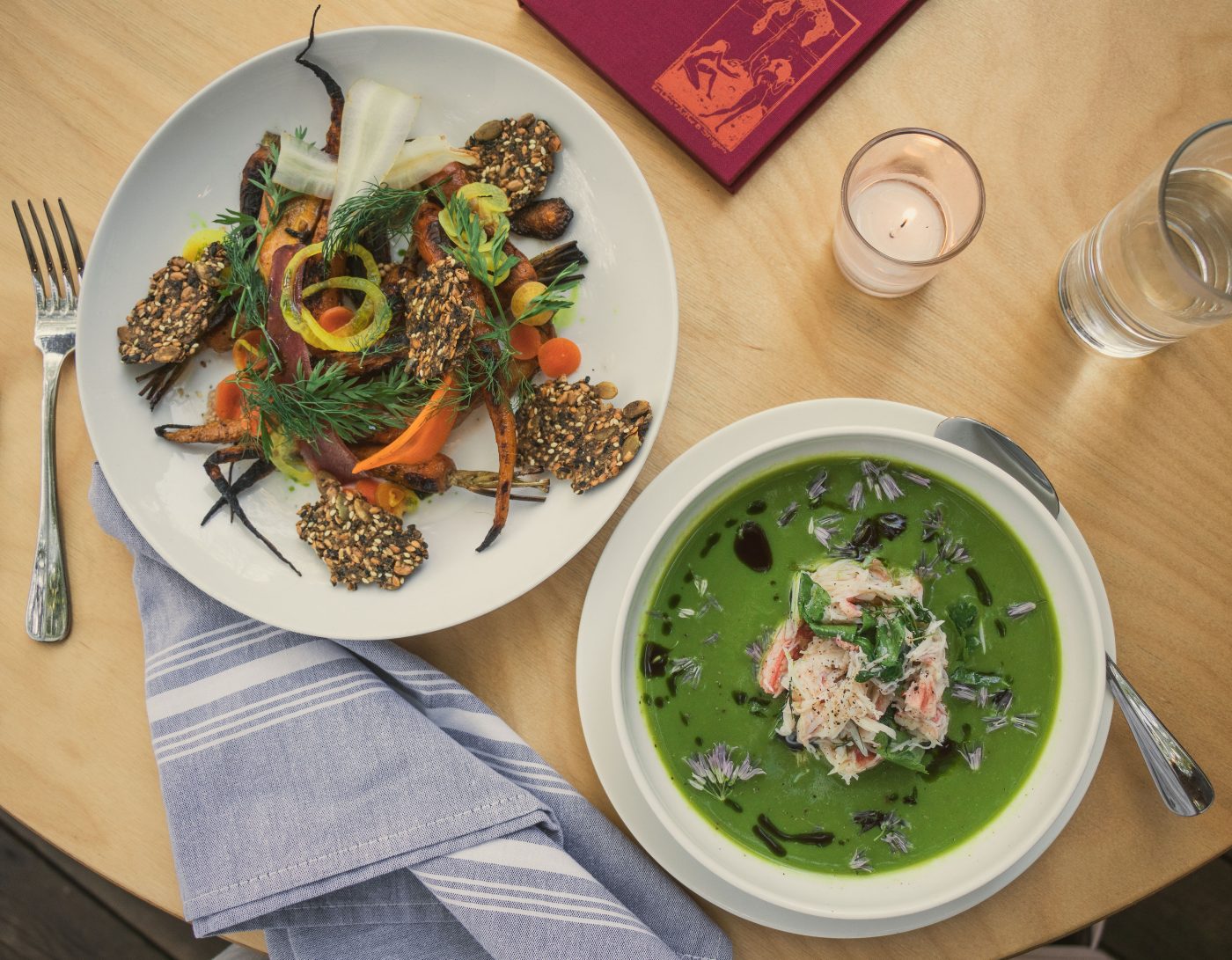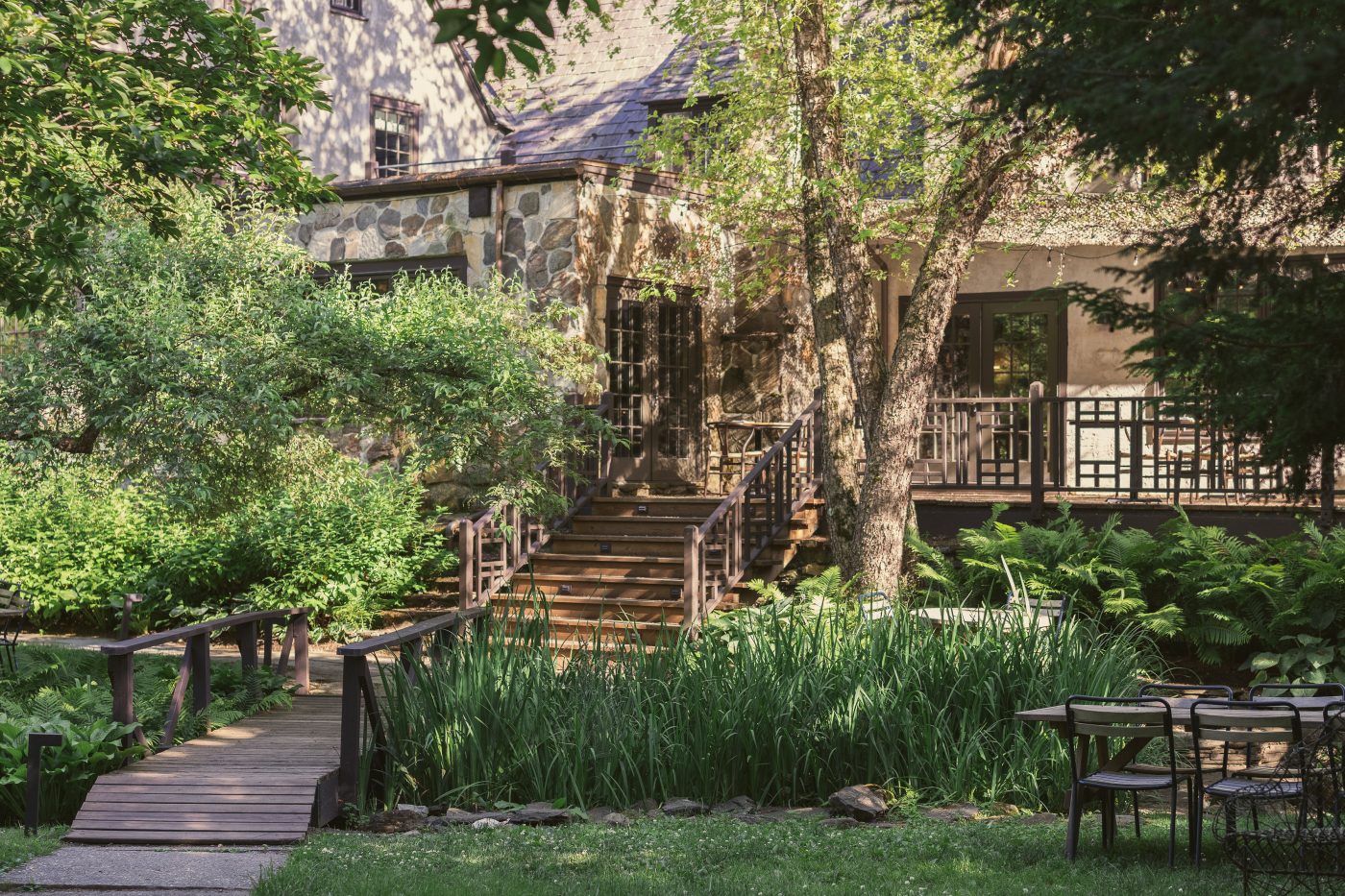 With my belly full and my tastebuds ever so satisfied, I took my glass of wine out to the wrought-iron tables to loll in the twilight and await what I call glow hour. Whatever you may call them—fireflies or lightning bugs—they are to me the essence of summer's magic, stardust quietly gracing the earth, reminding us just how small but rich we are. As the dim periwinkle sky faded to navy, the fireflies began flickering over the Dunham, crossing the Red Bridge and dancing in the gazebo, stopping the clock as they gently and thoughtfully transitioned me to nighttime.
7:30 AM arrived in a literal blink, a shock to a girl who usually rises with sun to sing with the birds in their morning chorus. I credit the spacious yet inviting atmosphere of my Grand Room, complete with the chirping of crickets coming in through open windows, a view of the stream, and the ultimate peace as I nestled freely (and without being limited to one side of the bed) into a wildly comfortable king-size dream. It's rare that I sleep so long and so hard, and a word that came to mind repeatedly in the mere six hours I enjoyed the property the day before was reaffirmed.
One of the many ways that Troutbeck maintains its sense of past is through its analog nature. The idyllic surroundings are by definition analog, but even modern conveniences are intentionally subtle so as to encourage connection through disconnect. The rooms in the house encourage moving at a slower pace, stopping to admire bookshelves and other curiosities on them. I can imagine the crackle of fires in fall, a game of chess on a rainy afternoon. Leaded glass windows back cozy window seats; snuggling up in the dimly lit library's is a perfect way to get lost without even opening one of the many books. Though it would be easy to fill one's nose with biblichor, dozing in an out of the story on the page and the storybook you hopped into upon arrival…wondering which literary greats have turned the same pages of the old books before.
Morning sunshine cast windowpanes' shadows on a table in the Sunroom and called me to break my fast. Respite is the name of the game on the property, and as much as I was eager to make the most of the short morning, I relished an uncommon and slow, served-to-me breakfast and smooth cup of coffee just the same.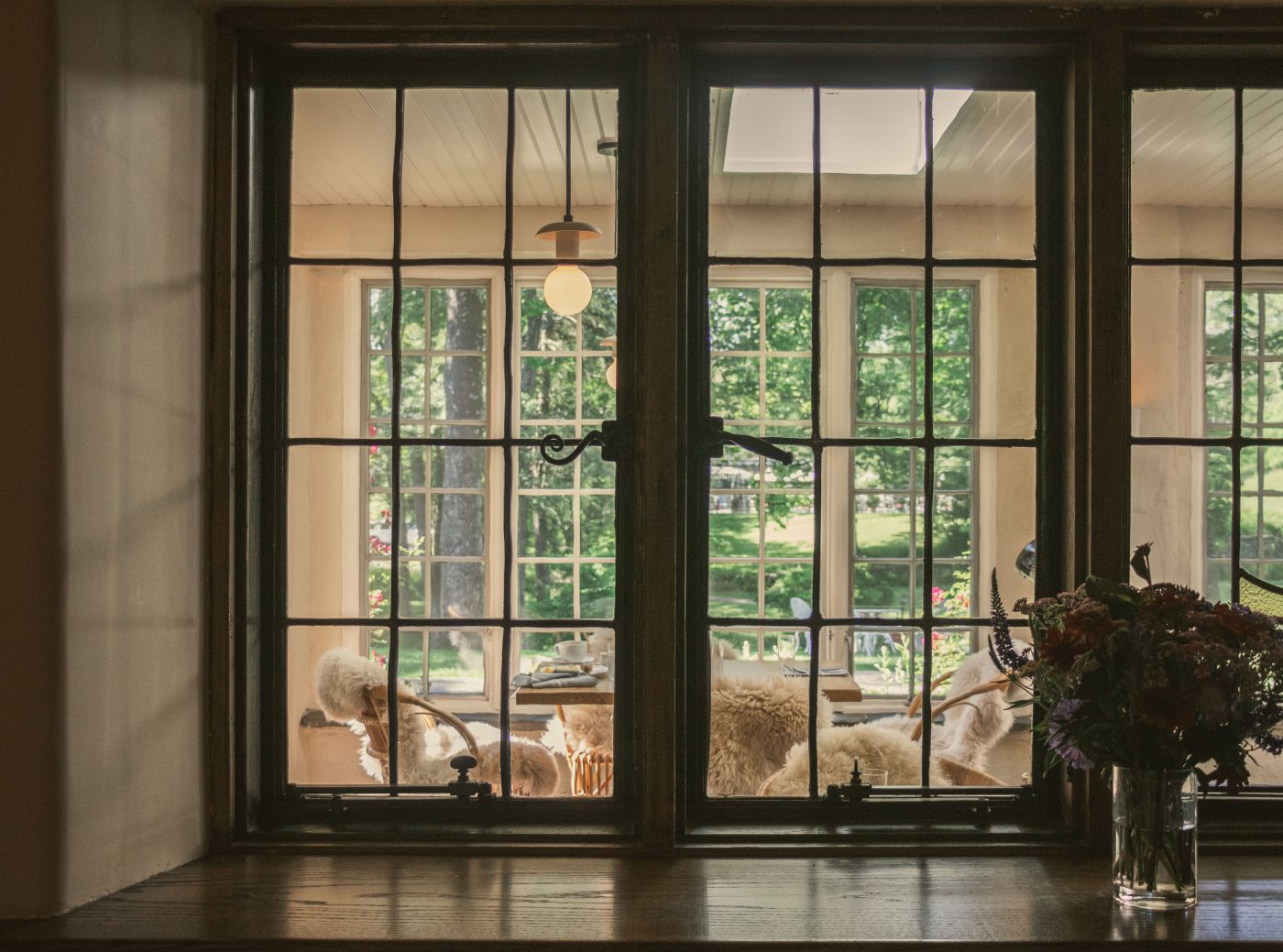 The essence of the estate as a retreat grew ever more apparent the more time I spent becoming entrenched in its seclusion. And that's just it: the juxtaposition of its seclusion is balanced by the grandeur of its canopied open spaces, storied past, and the surrounding Hudson Valley as your oyster. It's one of those places that you can accomplish much by doing very little; it would be arguable that doing more would actually garner more. One of the biggest appeals of the property is that you can make as much or as little of it as you'd like; as their website so perfectly offers, sometimes just changing scenery is all you need.
Before I visited, I stumbled upon a casual comment in Troutbeck's history that it "played frequent host to Thoreau, Emerson…". I hadn't yet written once sentence of this story—nonetheless visited—and suddenly felt it would be a daunting task, a feat full of the mediocrity of writing which is anything but that of two of our greatest American poets. How could I produce anything even remotely as magnanimous and serve due justice to the estate as they?
At the same time I felt a quiet thrill of excitement at the prospect of walking the paths two of my idols of prose once walked…discerning the inspiring whispers of the breeze as it catches the same old sycamores, etching in my brain the simple moments that would become this tale. And perhaps, if I listened hard enough, their creative ghosts would pop turn of phrase in my head like fireworks and move my pencil across paper with lush fluidity. Alas, a girl can dream. But where better to bask in such dreams as Troutbeck?
—
Author's note: If I'd had more time on the property, I'd have been sure to take advantage of a swim in the pool, a set of tennis, and a bike ride around the area, not to mention the wellness and outdoor activities offered by both the property and the surrounding region. If you can, take advantage and stay a little while.
July 2022