Mid-February, I went on an unforgettable Rwandan adventure with Micato Safaris and One&Only with the end goal of gorilla trekking in Volcanoes National Park. For those unfamiliar with Micato Safaris, they offer exclusive, boutique luxury safaris that introduce you to the beauty of Africa through the eyes of locals and leave you feeling like family. Each leg of the journey was expertly led and guided, and I cannot recommend Micato Safaris and their hosts enough. I cannot wait to share the unbelievable sights and One&Only Resorts that were uncovered on this once-in-a-lifetime trip and I hope you find inspiration to start planning your own!
Kigali
An easy flight from JFK, a quick layover in Amsterdam, and 16 hours later, we arrived at Kigali Airport. We were immediately met by a Micato Representative as we deplaned and were personally escorted through baggage claim and customs. The Micato staff arranges all airport arrivals, departure transfers, and baggage handling. We were given three COVID tests, a rapid, PCR nose and throat swab (this will ease for fully vaccinated soon but keeping the primates safe is a top priority.) Finally, we were ready to explore the beautiful country of Rwanda!
First things first, we headed to the Serena Hotel, which is primarily used as an overnight stay due to flights arriving late in the evening before heading out early for your trekking experience the following day. This lovely hotel sits in the heart of Rwanda's bustling capital city and its elegant furnishings, modern Rwandan art, and amenities are easily on par with other big city hotels I have enjoyed. Right around the corner from the Serena Hotel, we scouted out the new kid on the block, The Retreat Rwanda, and got our socks blown off! This twenty-room boutique property is a gem with lush landscaping, modern eco-friendly designed rooms and suites, and a killer restaurant. The owners are passionate about sustainability and are dedicated in many ways to supporting the people of Rwanda. The property supports the local artists with rotating galleries of some incredible pieces. The pool villas were our favorite – one set of connecting pool villas makes an ideal set-up for family and friends traveling together. After our COVID tests were received, we were off to explore the city's market, shops, cultural center, and Genocide Memorial Center.
Rwanda has a population of about one million people and is a remarkable mix of rural and urban town that sprawls over stunning hilly terrain. The country amazed us in how safe and unbelievably clean it is – literally not one piece of clutter! To give you an idea – Umuganda is a national holiday in Rwanda that takes places on the last Saturday of every month for mandatory nationwide community work. This goes to show how proud these people are, and
understandably so given the country's complicated and devastating history. It took us a few days to fully digest what we heard and saw at the Kigali Genocide Memorial. This is a place where more than a quarter million victims of the genocide against the Tusti are remembered. Several photograph-heavy exhibits as well an especially moving room solely dedicated to the children who perished, amplified the urge to never forget the atrocities of the Dark period of Rwandan history. This visit made the trip much more meaningful and I highly recommend going if you get the chance. While the grave part of Rwanda's past is heavily remembered, few of us are aware of the incredible turnaround and achievements that have taken place in the last twenty years. Today, the country is made of united citizens with one of the fastest growing economies in Africa.
Nyungwe National Park | One&Only Nyungwe House
The following morning, we took a thirty-minute flight from Kigali to Kamembe on our way to One&Only Nyungwe House to explore the iconic Nyungwe National Park and go trekking for chimps. Sitting in Southwest Rwanda, just south of Lake Kivu on the Burandi Border, One&Only Nyungwe House is set amongst the rich tea-plantations of Gisakura. Nyungwe National Park covers approximately 1,202 km of rainforest, bamboo, grassland, swamps, and bogs. The forest is one of the last mountain rainforest habitats on the planet and is home to more than 500 Chimpanzees and 310 species of birds.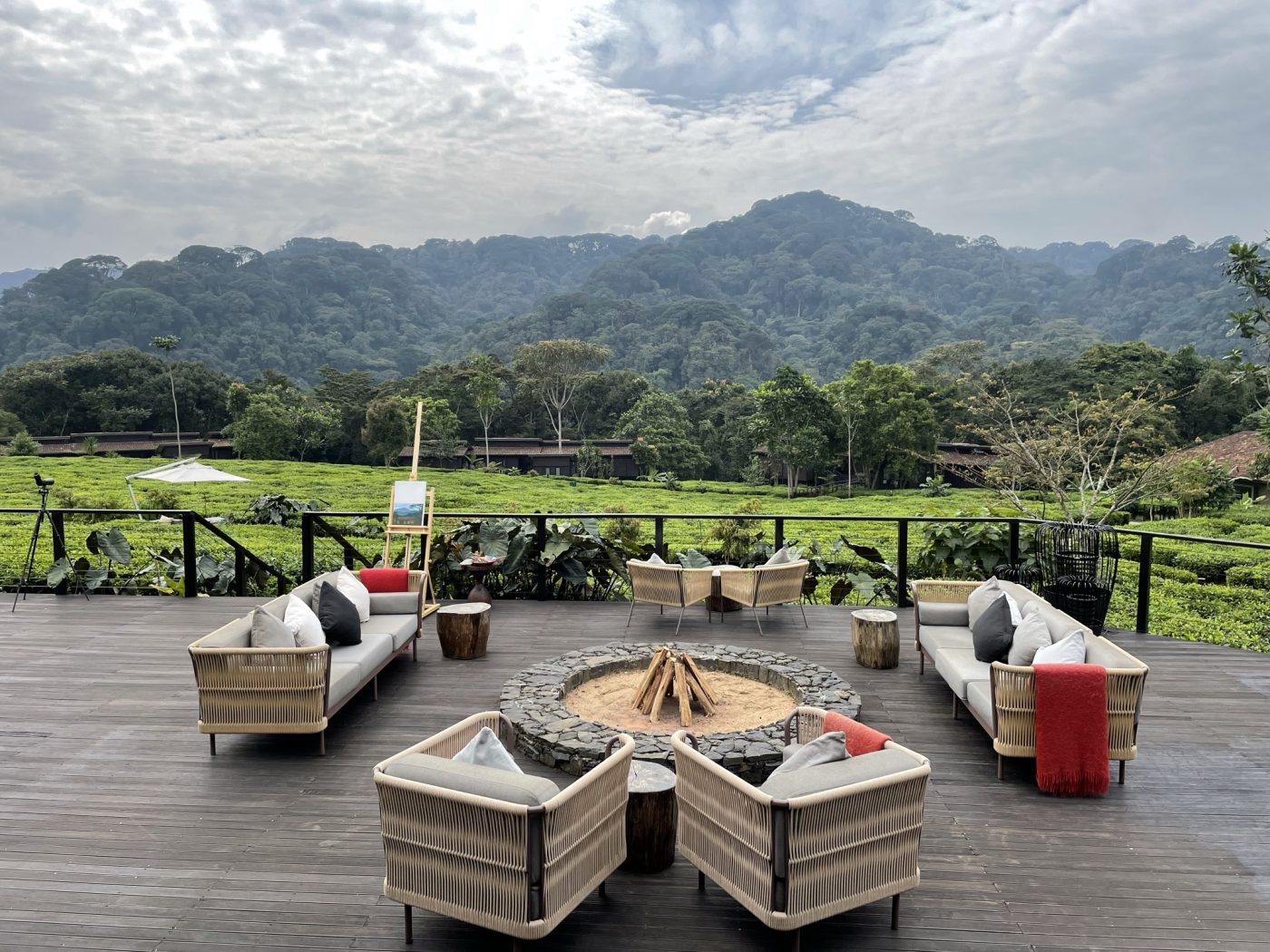 One&Only Nyungwe House is made up of only twenty-two rooms spread out over six wooden villas. Rooms are decorated in black and white color schemes with soft, plush furnishings, and modern décor. I was obsessed with all the contemporary fabrics and pillows! All rooms have spacious seating areas decked with open fireplaces, private terraces with rainforest views, and Rwandan artwork. Be prepared for many visitors in and around the property, including many monkey sightings! Dining is a big part of the experience at the One&Only Nyungwe House as you will need to be sure and fuel up for the Chimpanzee trek. Guests can expect sunrise breakfasts before the journey, a gourmet picnic lunch in the heart of the forest, and a candlelit dinner to end each night.
At 4:45 Monday morning, we geared up in our gators and headed deep into the forest hunting for chimps. There is always a group of trackers with the chimps so that you are guaranteed a show. There are various levels of trekking you can do from easy to hard. We chose the latter and it was one of the hardest things we have ever done! We could not have made it through the trek without our amazing guides and porters. A porter is absolutely necessary when trekking through Rwanda regardless of experience level. By hiring a porter, you are creating jobs, supporting the local community, and you get the chance to meet some of the kindest souls in the world. After watching the group of chimpanzees play for an hour, we headed back for a post-trek massage and hot cocoa! The following day the group heads out to visit a habituated group of colobus monkeys found in the treetops, but there are additional options if trekking is not for you. One amazing experience we chose is the tea estate tour where you learn the ins and outs of the tea making process from pluck, to dry, to brew. The tea estate tour was of course followed by a taste test to learn all about the different flavor profiles, and we were all about the tea snacks! We got to drink out of beautiful custom-made China made just for One&Only Nyungwe House. Another amazing experience was Imigongo; a popular art form in Rwanda using bold geometric designs made of cow waste. We tried our hand at this unique art form with a cocktail of the day that was insanely delicious. One of our last activities was archery and spear throwing on the helipad before we headed off to Gorillas nest!
Volcanoes National Park | One&Only Gorilla's Nest
The following day, we finally trekked into Volcanoes National Park and were immediately captivated by the surreal sights and sounds of the rainforest, getting occasional glimpses of the sun through green canopies. Led by experienced trackers, we had the goal of coming upon the infamous endangered Mountain Gorilla. Truly one of the rarest wildlife encounters to experience. The day following the Gorilla Trek, our last day of the journey, we were left to our own devices and able to choose from golden money trekking, hiking, a visit to the bordering village of Iby'lwacu, or a trek to the legendary Karisoke Scientific Base established by Dian Fossey where her favorite gorillas main buried.
May 2022