Inn by the Sea is a fantastic property located on a mile of sandy beach on the coast of Maine. The hotel offers sixty-one guest rooms and one or two bedroom suites with private exterior entrances, making the Inn the perfect luxury beach hotel for couples or families who want to retreat to the coast of Maine.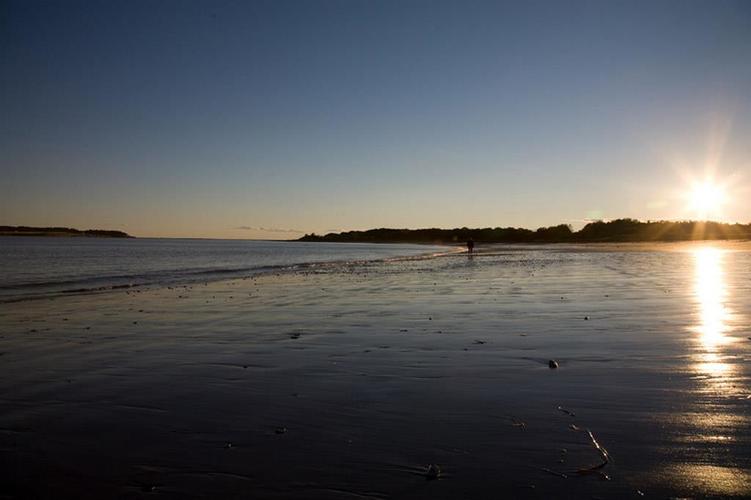 When we arrived, the check-in process was easy and incorporated new COVID protocols. Masks were worn by all hotel employees and you can even check-in from your car if you do not wish to come into the main lobby. When staying in some of Inn by the Sea's suite accommodations, you can avoid going to the Main Inn all together.
Accommodations
The Main Inn offers a selection of single bedroom accommodations as well as Garden Suites which still offer a private exit to the spacious lawns and beach of the Inn. All rooms are modern, well sized and well appointed.
If you are looking to maintain a higher level of space and privacy, Beach Suites offer exterior private entrances and plenty of room with large living spaces, fully equipped kitchens, soaking tubs, furnished decks and more. Suites also offer two bedrooms – a master complete with a king bed and a second bedroom with two beds, making these a fantastic option for your entire family.
Dining
Inn by the Sea also boasts one on-property restaurant, Sea Glass. Chef Chadwick's culinary creations are available for oceanside outdoor dining, and curb-side take-out service. An amazing spot for breakfast and lunch, keep in mind you must have a reservation. Don't forget it is also an option to take lunch by the pool!
Beyond staying on property, guests can take a 15 minute drive to downtown Portland, Maine. Portland is a wonderful town which offers a casual feel and local restaurants with options for outdoor dining. It is extremely easy to get to downtown and everyone is always wearing masks. Portland also offers local foodie walking tours, great museums and daily boat charters. A day trip to Kennebunkport, Maine is also an option. Just a 45 minute drive away, the coastal town is known for its sandy beaches, Seashore Trolley Museum and its 1833 Goat Island Lighthouse.
Experiences
Overall, the hotel gives a laid back feel and is great for those looking for some rest and relaxation. You can unwind by the pool, or take a walk down to the beach, which is definitely one of the property's best assets. A secluded boardwalk surrounded by foliage leads from the hotel to a mile of unspoiled sand beach, which you can reach in just about 7 minutes. Inn by the Sea is the only hotel on the beach, there are no other homes or hotels, which makes this a uniquely private experience.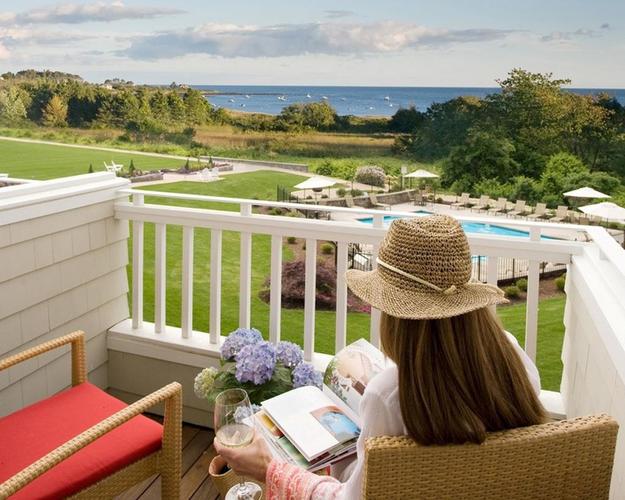 The view from the beach takes in the Atlantic Ocean with lobster boats bobbing on the horizon, an uninhabited island and spectacular evening sunsets. During the summer months, beach chairs and umbrellas are set out for a relaxed, chill day on the sand. Especially during COVID, Inn by the Sea focuses more on relaxing by the sea than offering a variety of beach activities.
That being said, the hotel offers some fantastic experiences. You won't want to miss yoga on the lawn with some of their amazingly knowledgeable instructors or the beach ecology walk, offered a few times throughout the week. Additionally, you can pick up cruising bikes and make your way to local spots, or take a garden tour (which is also not offered every day). The spa offers products and treatments inspired by Inn by the Sea's coastal setting, however is currently fairly limited and is not open every single day.
All in all, Inn by the Sea is a great place for couples, groups, families (especially those with younger children) and single travelers. We are looking forward to our next stay at Inn by the Sea!
Inspired by this beach getaway? Get in touch with a VWT Advisor today!