From cascading waterfalls and gleaming glaciers to rugged coastlines and breathtaking mountainscapes, Iceland does not disappoint. The country's pristine nature offers opportunities to participate in a plethora of outdoor sports, including snowmobiling, cave exploring, horseback riding and hiking.
Where to Stay in Reykjavik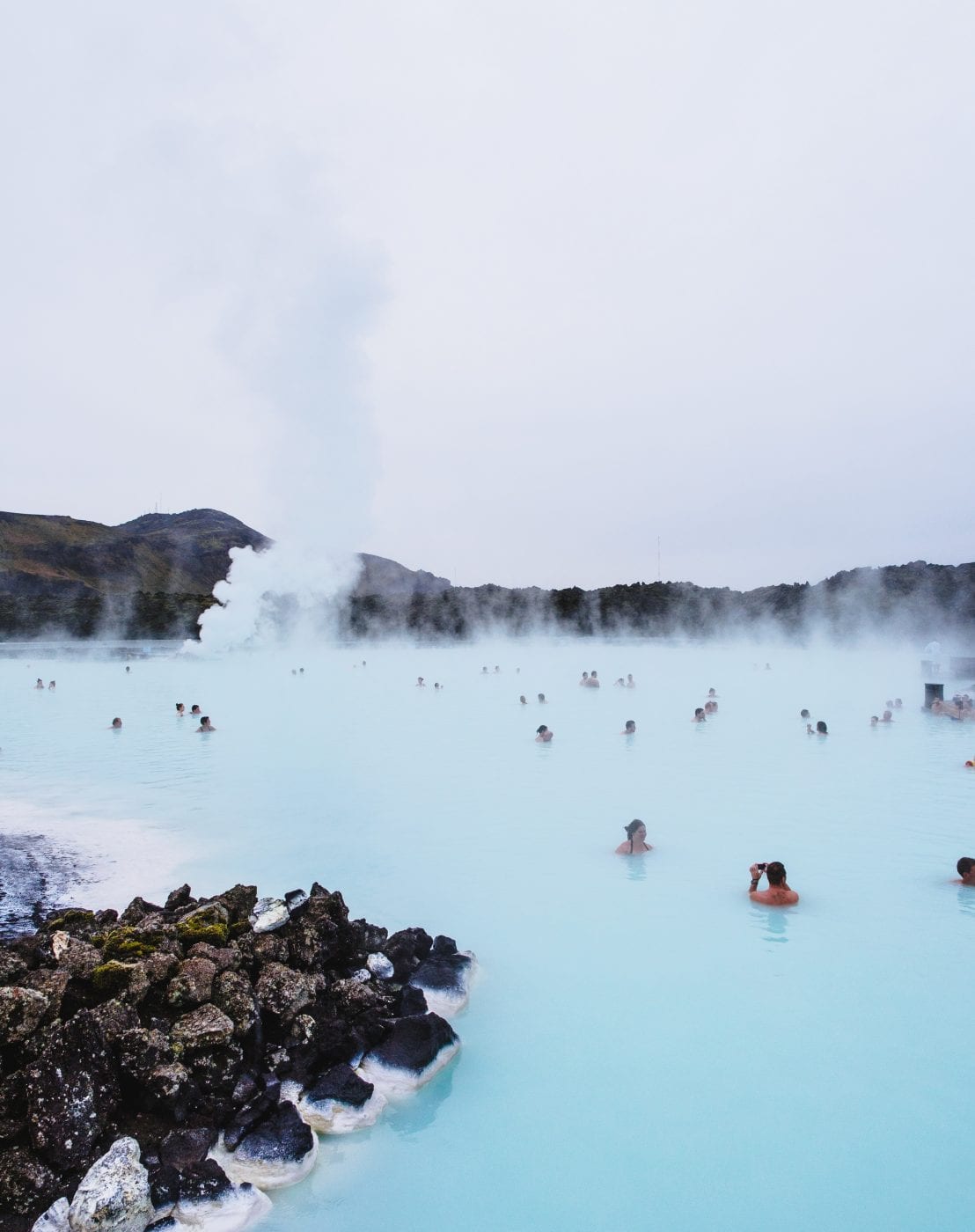 After arriving in Reykjavik, our group headed to Sandhotel, a luxurious boutique hotel located along the pedestrian street of Laugavegur. Only a 10-minute drive from the airport, this refurbished historic building provides guests with a wonderful opportunity to explore the vibrant cultural life that Reykjavik has to offer. Known as one of the most beautiful hotels in the city, Sandhotel's 53 guest rooms are decorated in a contemporary style while respecting the historical significance of the building.
We also visited another Reykjavik hotel option, Canopy by Hilton, which is located in City Centre. This ultra-modern building offers guest rooms styled in shades of oceanic and volcanic rock. An Edition Hotel will also be opening in 2020, which may quickly become the best hotel option in town.
Adventures on the Golden Circle
We then began our journey on the Golden Circle, a tourist route looping from Reykjavík into the southern uplands of Iceland and back. Located along the route is Skalakot Hotel, a family-owned hotel and farm that is all about living the local experience. The property is lovely and can be explored on horseback as you follow pre-mapped routes throughout the Icelandic countryside. While the views are stunning, this is not the place for foodies expecting exceptional Icelandic cuisine. Hotel Ranga is close by and has excellent food and adequate lodgings. Our next stop was the Retreat Hotel at Blue Lagoon.
This property screams modern luxury and is on the level of an Aman resort. In fact, this hotel is perfect for anyone who may consider Amangiri in Utah. The property has a fantastic restaurant and a spa – the in-water massage treatment is sublime and worth every Krona. With its stunning views and contemporary design, this is a great place to end a trip to Iceland. The Retreat is located only 20 minutes from Keflavík Airport and 50 minutes from Reykjavík.
Exploring Nature
Iceland's natural terrain remains very similar to how the Norwegians found it in 900 AD, for those looking to explore a little more, Private Travel Iceland has the best guides in the country. They are a personal luxury travel agency that specializes in creating tailor made tours and can take care of all your needs from the moment you arrive. Private Travel Iceland has a variety of different itinerary options for all kinds of travelers, their goal with each is to show off Iceland and all it has to offer. I would highly recommend them anyone traveling to Iceland!
While we had a great deal of fun exploring Iceland, I don't think it's for everyone. The country is best suited for active travelers. To truly appreciate the beauty of the island, you must be fit and able to handle difficult terrain and getting in and out of high vehicles.
The Experience
While only a 5-hour flight from New York, a trip to Iceland can be expensive. Dinner costs are on par with New York City or London and the Krona is currently very strong. The Icelandic people are very well paid, and most items are very expensive to import to the island, resulting in a higher trip cost. Iceland Air is a good option if on a budget, but I would suggest paying extra for Saga Class or seats with extra leg room.
In terms of weather, Iceland can be a mixed bag. Some days it felt like we experienced all four seasons within 24 hours. This is where an experienced guide becomes invaluable. These Iceland experts know weather patterns, can accommodate for any problems you may encounter, and always know how to keep the fun rolling.
Beyond the country's obvious natural beauty, we were able to learn about Iceland's rich history, which has been told and retold through sagas since the country was first settled. From luxury hotels and unique experiences to upscale dining and a thriving cultural scene, Iceland truly has it all.
For more on traveling to Iceland, or for some more travel inspiration reach out to our VWT Advisors at [email protected].