Grand Cayman is the largest of the Caribbean Cayman Islands, where visitors can shop at designer stores in Georgetown before indulging in a cultured feast of outdoor delights like its Seven Mile Beach and sunken ship, USS Kittiwake – one of the island's most stunning snorkeling destinations. Tread water alongside sea turtles at Spotts Beach, dive into the arts at The National Gallery of the Cayman Arts or explore the Heritage Garden at Queen Elizabeth II Botanic Park. The Culinary Capital of the Caribbean has everything you need to have an exhilarating, or relaxing, getaway any time of year. Here are a few VWT itinerary highlights and stays we can't help recommending in Grand Cayman.
What We'd Do
Stingray City
Stingray City is by far one of the top things to do in Grand Cayman and it's easy to see why. Located in the island's North Sound, Stingray City is a series of shallow sandbars that have been a gathering point for dozens of stingrays over the years.The area was traditionally a cleaning site for returning fisherman, where today stingrays excitedly come and dance with visitors when boat engines are heard. Embark on a private charter to the area where you can swim, pet and interact with these majestic, and friendly, animals up close.
Kayak in Bioluminescent Bay
A 45-minute boat ride from Seven Mile Beach and a short distance from Rum Point, Starfish Point and Kaibo, bioluminescent plankton put on a light show. Join a boat trip on a dark night (preferably during a new moon) to a secluded bay and swim, kayak or simply gaze in awe as the ocean is lit by microscopic organisms. There are only a handful of places in the world where this phenomenon can be experienced so don't miss out on the chance to see it for yourself.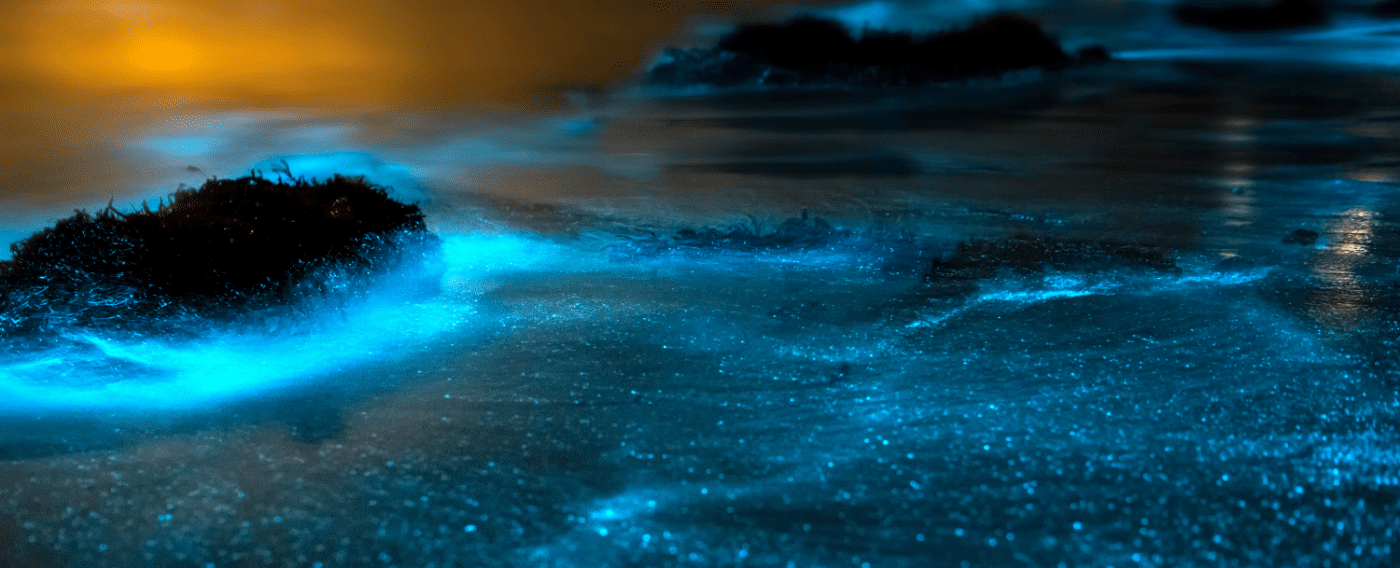 Explore the Crystal Caves
While formed over 1,000 years ago, the Crystal Caves in Old Man Bay are one of Grand Cayman's newest attractions. There are some 105 caves on the property and with a guide, guests can explore up to 3 open to the public (so far). Walking through, you will see impressive stalactite and stalagmite formations, hidden passageways, a gorgeous interior lake, and bats.
Where We'd Stay
The Ritz-Carlton, Grand Cayman
The Ritz-Carlton, Grand Cayman is the only Forbes Five-Star Hotel in the Cayman Islands with the best address on Seven Mile Beach. After it's thoughtful beautification project in 2021, the iconic resort has a fresh new look: modern coastal chic yet distinctly British Caribbean. The 369-room resort has six restaurants, including the only AAA Five Diamond Restaurant in the Caribbean, Blue by Eric Ripert. The resort is additionally home to an eco-adventure program for kids and adults designed by Jean-Michael Cousteau, The Ritz-Carlton Golf Club, Grand Cayman, nine-hole course designed by Greg Norman, Starfish Cay water park, and a significant public art collection, the longest standing gallery in the Cayman Islands.
Kimpton Seafire Resort + Spa, Grand Cayman
Kimpton Seafire Resort + Spa is the island's only AAA Five Diamond lifestyle resort, perched 24 feet above sea level in the white sand of Seven Mile Beach. The island's first-ever lifestyle resort has an open-air design that stays with you inside and out with water vistas at every turn and winding gardens that lead to secret sanctuaries, social gathering places and pristine pools. All 264 accommodations offer floor-to-ceiling windows with private balconies to take in the ocean views, accompanied by a calming neutral design with bursts of tropical color. There is an amazing spa on the premises as well as three unique dining venues and the new SPLASH at Seafire family water park.