Over the years, I have sold several trips to New Zealand, putting all the details into the hands of tour operators and DMCs. Often competing with Africa travel dollars, I found that New Zealand requests did not come up as often. Clients would protest "the flight is SO long," "I'd like to see a different culture," or "I'm a fan of Flight of the Conchords but I don't bungee jump." After all, if people are investing significant time and money (and a long-haul flight), some might opt for the diversity that you could find in Africa.
Boy, were my eyes opened to all New Zealand has to offer after I had the opportunity to participate in a Virtuoso/Seasonz FAM trip in May. (Yes, winter season down under).
I had stumbled upon a Virtuoso Fam trip invitation years ago. I applied, but unfortunately, was not accepted due to my oversight of a prerequisite course. Since New Zealand was on the top of my Bucket List, the allure of travel there made every bit of preparation this time worthwhile. I completed the Virtuoso Immersion Series and New Zealand Specialist Program to become certified.
The 13 ½ hour Air New Zealand flight from LAX to Auckland was easy. There is a reason that Air New Zealand has taken the top spot for best international airline. A two-hour layover incorporating a terminal change to a domestic flight to Queenstown (South Island) could be a bit daunting; however, with the assistance of the VIP arrival service we cleared customs and made our connection. Note that prior to arrival, travelers must download the "NZeTA" travel app and complete the short questionnaire with their passport and travel details. A confirmation of successful receipt is necessary to enter the country.
The two-hour flight from Auckland to Queenstown could have been an excursion. We flew over some of the most beautiful mountains (some snow-capped), rivers, and lakes . . . topography, in my opinion, that rivaled Iceland and Ireland. With a population of just over 5 million people, the majority living in Auckland and the North Island, you get a calm sense of space in the beautiful outdoors. Don't be fooled! It's because of its natural beauty that this is the mecca for some of the most thrill-seeking activities in the country.
A jet boat ride through the gorgeous canyons on the "Shotover Jet" was the first activity of the day. Bungy jumping and zipline rides over the river are nearby. It only took one day for our group to get up the nerve to take the Bungy plunge! Oxbow Adventure Combo center, where we partook in the Ultimate Off-Road experience (think rollercoaster in a 4×4!), Jet Sprint Boat (which made the Shotover Jet seem like a carousel ride!), and clay bird shooting were on the agenda the following day. Skiing and boating are also popular sports on the South Island.
Keeping my eye out for the less adventurous clientele, I noticed that there was plenty of activity for them to enjoy. The charming historic gold mining town of Arrowtown, with its Chinese immigrant influence (1800s), provided a bit of retail therapy. Lunch in the garden at the delightful Mora Wines and Artisan Kitchen was delicious. More retail therapy in the beautiful waterside town of Queenstown was not a disappointment. Just 50min from Queenstown along the shore of Lake Wakatipu is the "adorable" village of Glenorchy. Here you will find the hiking paths to the gateway to "Middle-earth magic". Be sure to stop for a photo op of the beautiful lake and snow-capped peaks. A visit to Mrs. Woolly's General Store for savory pies and unique souvenirs is also a must.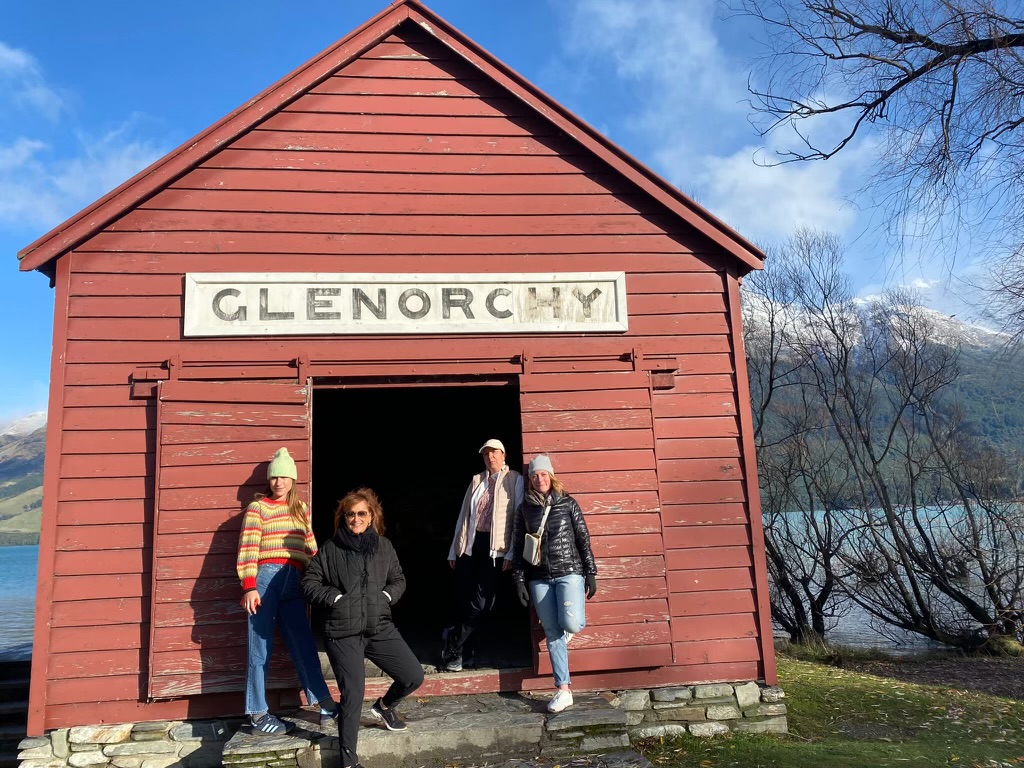 No trip to New Zealand would be complete without a helicopter ride! The flight en route to Minaret Station Lodge took us over the snow-capped mountains and close enough to waterfalls that we felt we could almost touch! While distances are vast, the flights are short between destinations. The airports are small, manageable, and the security process is relaxed, without standard metal detectors.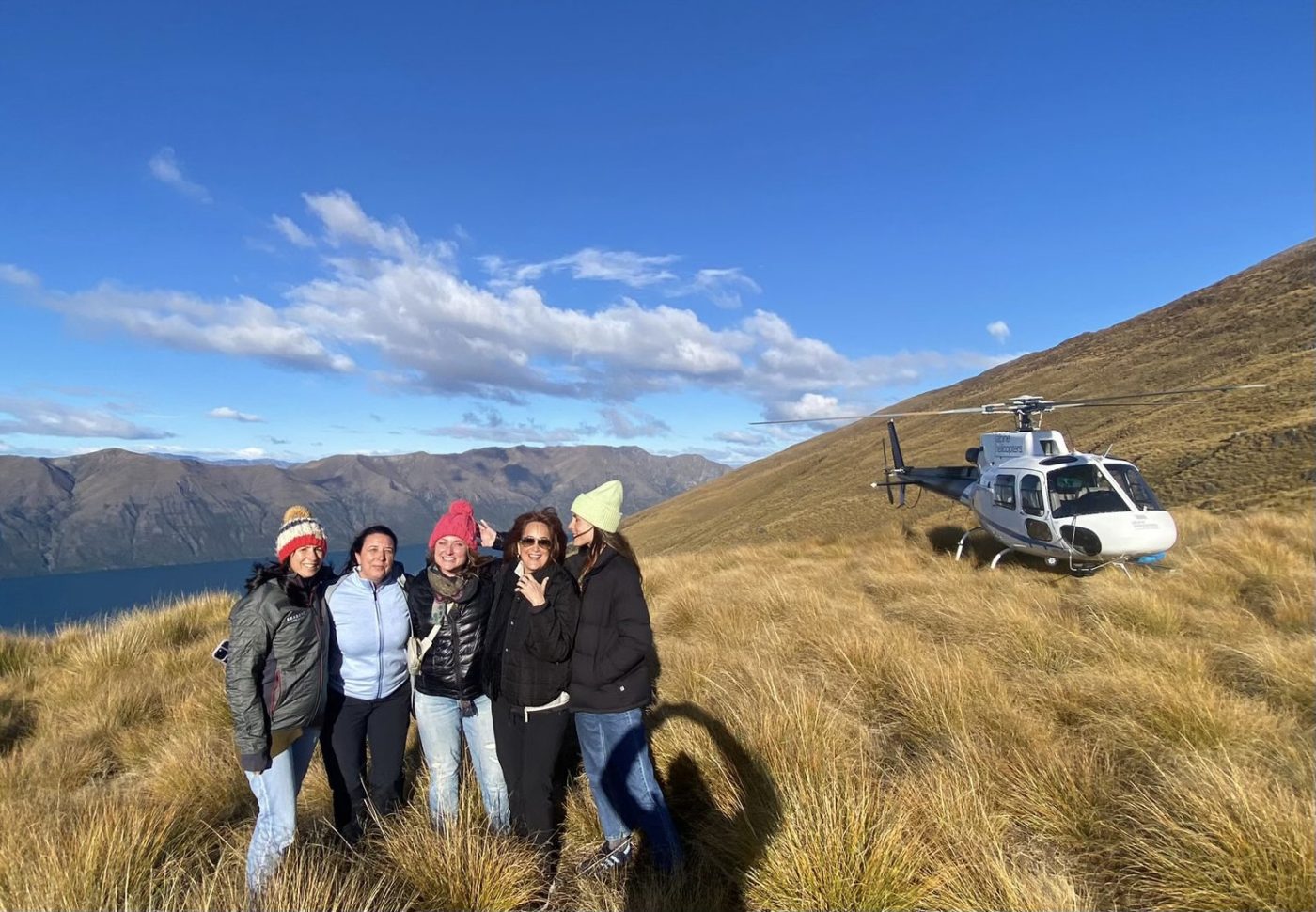 The North Island yields a different experience. The topography (and weather) was a bit more manicured and developed. Beautiful gardens, golf, fishing, vineyards, and hiking paths are in abundance. There is no lack of natural beauty.
It is in the North Island that I learned the most and witnessed the influence of the native indigenous Maori (Polynesian) original settlers. Their arrival to New Zealand dates to the 1300s. Their culture and language are revered. Their heritage is embraced and taught in all schools. We were fortunate to have had Maori guides who shared their knowledge of their heritage with us.
New Zealand is a great destination for the luxury traveler with dozens of top lodges that are very different. It's easy to mix and match to get a great perspective of what is offered.
Some of my standouts:
Blanket Bay, the lodge on the shores of Lake Wakatipu– the perfect place to enjoy the beautiful lake and the Southern Alps area. Wooden beamed ceilings and huge stone fireplaces make this lodge both cozy and spiritual.
Minaret Station Alpine Lodge was a true once in a lifetime experience. Approachable only by helicopter, the 5 chateaux(s) provide luxury and comfort in the complete wilderness. Due to its remote location, many of the activities are tailored on an exclusive basis. Personalized charter heli-flights with alpine gourmet picnics, glacier landings with hiking, and flights over the fiords can be arranged. Fly fishing, hiking, and biking are also available.
In Christchurch, the Otahuna Lodge (Relais & Chateaux) is a beautifully renovated turn of the century historic home and English garden. Each room's accommodation has been meticulously thought out and is unique. The garden tour and cooking class were fun. The proprietors are on site and add additional enjoyment to your stay. King Charles and Queen Camilla have stayed here twice.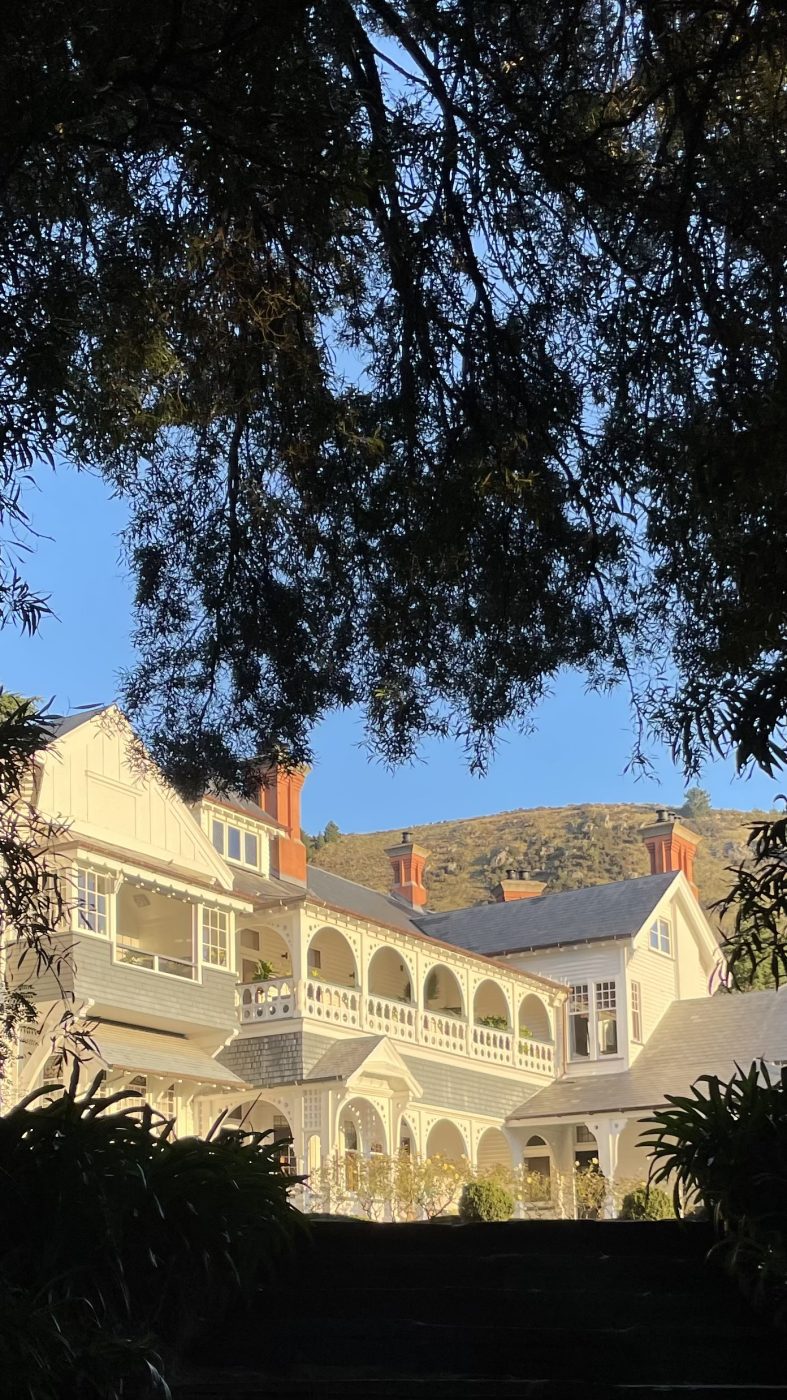 Located in Rotorua, (known for its sulfur springs) is Huka Lodge. A beautiful lodge built in the 1920s, each accommodation is just steps away from the Waiko River. This lodge has the distinct reputation of having multiple unique dining options. Be sure to book in advance! Hiking to the Huka Falls, and shopping in the nearby village just add to the allure of staying here. OH! AND Queen Elizabeth II stayed here!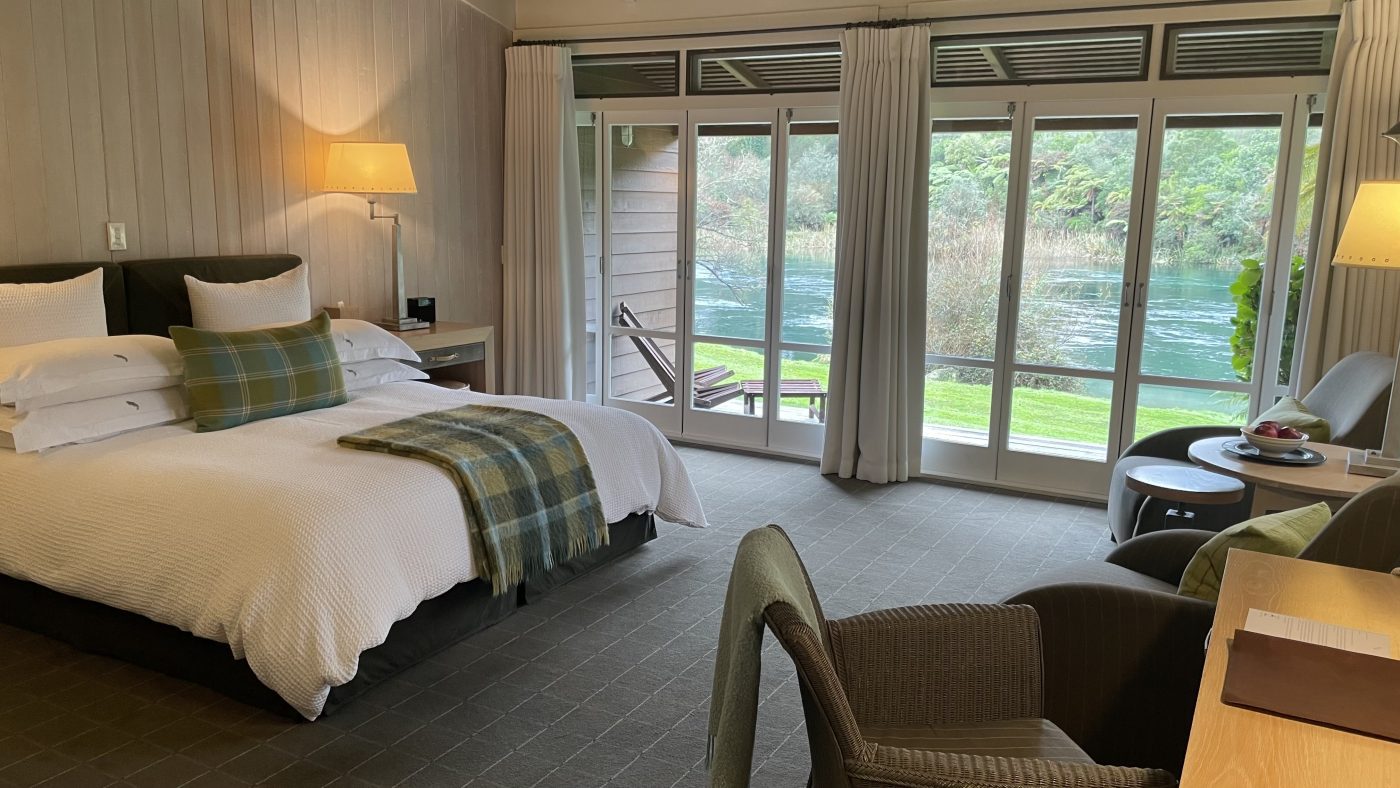 The Landing is situated in the Bay of Islands. There are 4 outstanding private villas with magnificent vineyards and sea views ranging from 4 – 12 pax accommodations. This is the height of luxury! There is a private vineyard located on the property. Vineyard tours, wine tastings, hiking, mountain biking, and beaches are just some of the activities provided. Historically, this area is one of the most interesting, as the first European settlers arrived just across the shore. There is no restaurant on the property; instead, a private chef prepares your meals.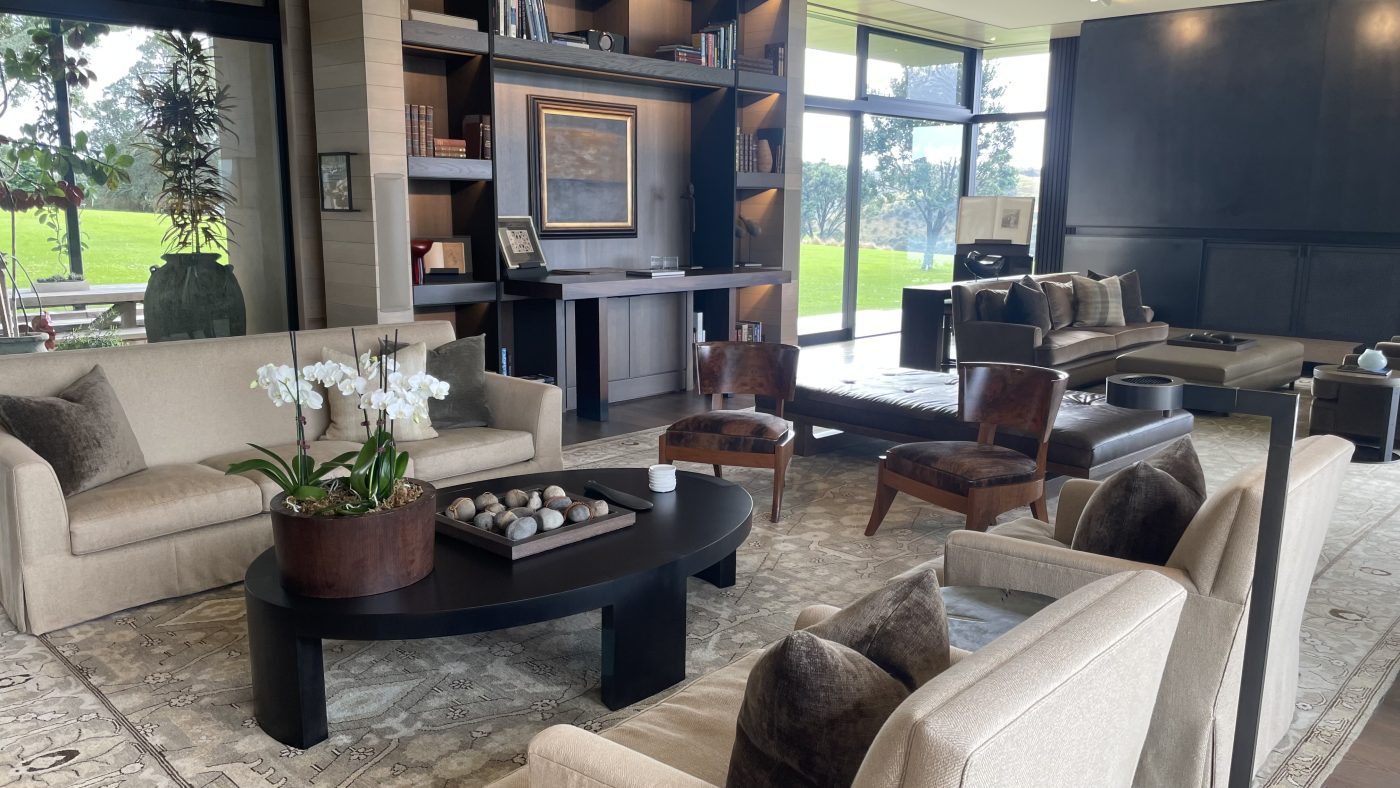 Virtuoso and our local host, Seasonz outdid themselves in arranging the most spectacular itinerary and flawless service. My only regret is that I didn't come to New Zealand sooner!
May/June 2023
READY TO PLAN YOUR OWN GETAWAY?