Machu Picchu is one of those destinations that, as you have probably heard before, must be experienced at least once in a lifetime. For some the journey brings spiritual enlightenment, for others a chance to get up close and personal to one of the most evocative and mysterious wonders of the world. But the journey to the "Lost City" is just as exciting as the destination itself. My wife and I have been on a couple of group trips with A&K (Botswana, Egypt, and South Africa/Zimbabwe/Zambia) and believe it is an ideal way to gain context and insight into the culture of a new country. This was my second trip to Peru. In 2003, I traveled with a supplier on a 5-day FAM trip. It was busy, but we saw all points of interest. This time, with my wife, we traveled at a more leisurely pace as we were part of a regularly scheduled group. Groups usually have sixteen to eighteen people, but our group had only eight, making the trip feel more intimate – plus, it is an easy way to get to know each other on a more personal level and be able to make lifelong friends.
We flew into Peru a couple of days ahead of the trip and stayed at Hotel B, the first Relais & Châteaux hotel in Barranco, Lima. I had heard many great things about the hotel and the neighborhood and wanted to experience it firsthand. This is a great little boutique hotel with only twenty rooms, originally built in 1914 as a seaside summer home for a wealthy Limeño family. Staying at the hotel and exploring the Barranco neighborhood it sat in was one of my favorite parts of the whole trip, apart from Machu Picchu of course. There are over 300 pieces of original artwork and installations spread throughout the hotel and an abundance of local galleries and coffee shops within walking distance. Lima is overcast and grey for most of the year given its location against the Andes – getting blue skies only two months a year in the height of summer. The shady weather, while humid, is perfect for roaming around the charming and walkable neighborhood.
The trip officially began as we headed into the center of Lima to Miraflores Park, A Belmond Hotel, Lima for a welcome from A&K and meeting with our group. Miraflores Park is a great hotel for exploring Lima as it sits in the middle of everything you would want to explore here. The hotel is spacious, has great food, a nice lobby area, a rooftop pool with stunning views, and even an old library bar. The main attractions in Lima are the sixteenth century Cathedral and Colonial Square, Plaza de Armas – but the city was also home to my favorite meal of the whole trip. The first night in Lima, we met with a local chef who took us around a neighboring neighborhood market to learn about local foods from the land of the Incas. He took us back to his cooking school where, rather than an interactive cooking class (which I don't always love), he cooked over-the-top phenomenal food for us while we drank wine and got acquainted with the group we were about to journey through Peru with.
Departing from Lima, we flew up 11,000 feet above sea level near the Andes Mountain range to the exact center of the Inca Empire, Cusco. Cusco is nicknamed the "naval of the world" as it sits at the actual core of the Inca Civilization and is a sacred place for those who make the journey to Machu Picchu. We managed to grab lunch given our altitude sickness and then drove even higher to 12,400 feet to stop and see a few alpacas, llamas, and vicunas. From there, we continued our drive down to approximately 9,000 feet to stay in the Sacred Valley of the Incas.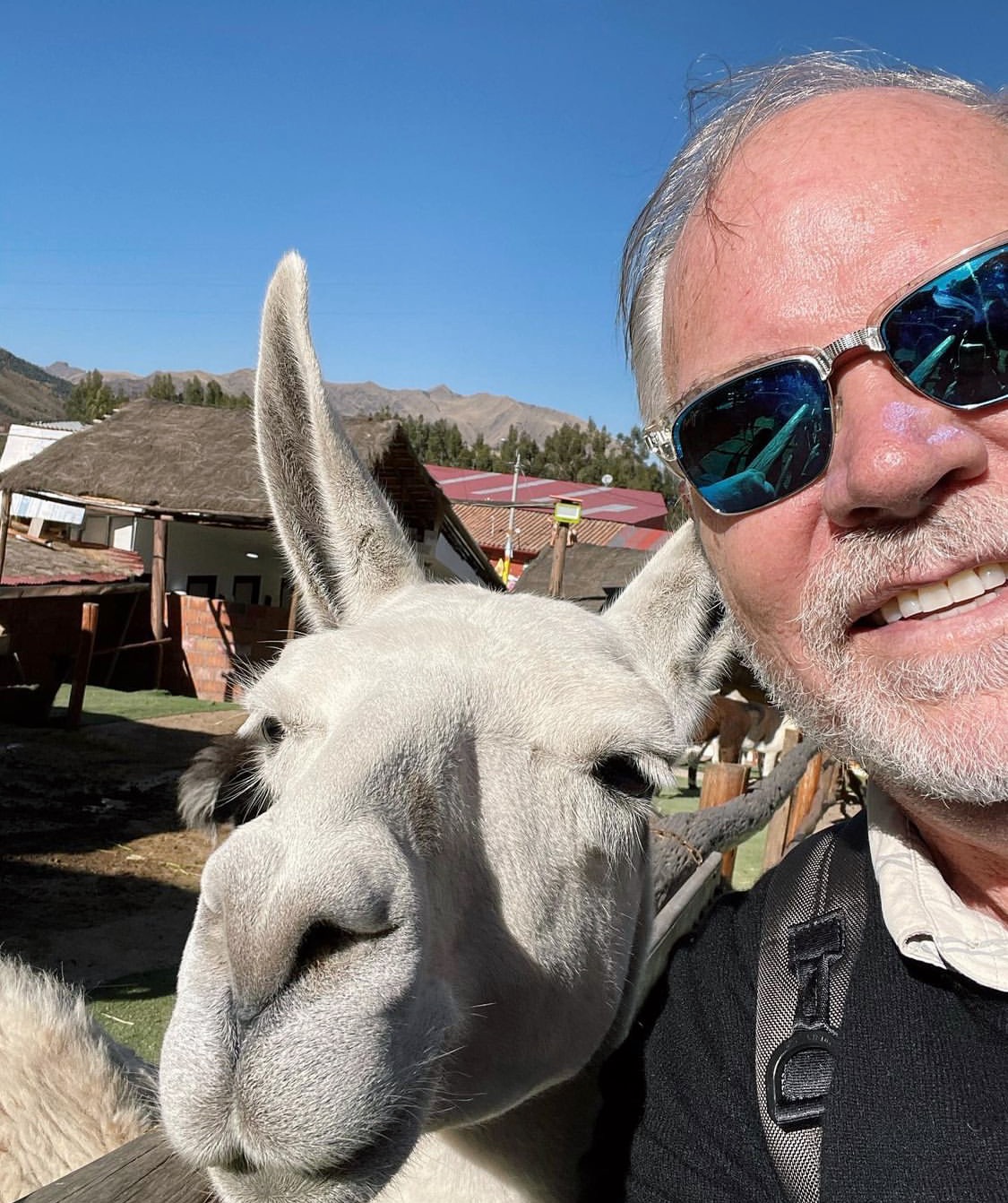 Speaking of lunch, the food in Peru is great if you love potatoes and quinoa. Just about every meal, there was a potato and serving of quinoa. We even saw the produce and grain being grown on various parts of the trip. Fish and chicken are the main sources of protein here. The food is very saucy and you must try a Pisco Sour! There is also a lot Japanese and Chinese influence as Peru had a Japanese president in 1990. The Japanese Celebrity chef Nobuyuki "Nobu" Matsuhisa, found the widely popular restaurant Nobu whose inspiration can be traced back to Peru where he once lived.
We stayed two nights at Inkaterra Hacienda Urubamba, a contemporary hotel located in a beautiful area of the countryside in the Sacred Valley of the Incas, an area that has been settled for hundreds of years. You could have guessed given the name includes the words "sacred" and valley", but scenery from the rooms here is truly breathtaking. The valley walls loom in every direction like a fictional fortress. Each of the accommodations are its own private villa giving you a sense of privacy and serenity. The food was quite outstanding, and the service was over the top. One night we sat out near a bonfire and star gazed at the southern sky constellations.
During our stay at Inkaterra Hacienda Urubamba, we visited local communities and bought handmade clothing and saw firsthand the community's lifestyle through weaving, cooking and craft lessons. During our trip to Zambia with A&K, we visited a bicycle repair shop staffed with women from the local village (Nakatindi). It's a wonderful way to see the locals feel empowered to steer their future. We were taken up into the mountains to be blessed by a shaman whose family has been around for hundreds of years. We were given spiritual blessings in a special ceremony that everyone took very differently. Four out of five of the people in the group claimed this was their favorite experience of the entire trip, further emphasizing how special and sacred this part of the world can feel for some. A&K adds little treasures throughout trips, and they do it well.
From the valley, we boarded the plush Inca First Class Train with Inca Rail which is by far the most comfortable way to reach Machu Picchu. The seats are plush, there is a bar-cart and bar, an outdoor balcony, and most importantly beautiful views of the Peruvian countryside and Urubamba River. The river actually changed its name to reflect the city of Urubamba – a backpacker's dream and ideal "road trip" stop. The city is about 30 miles away from Machu Picchu and is full of pubs, pizzas, and over 300 vendors – I loved it!
We ultimately reached our lodgings where we would explore the crowned jewel of the trip from, and the ONLY hotel located on-site at Machu Picchu – Sanctuary Lodge, A Belmond Hotel. The hotel is minimal, featuring muted colors that perfectly complement its dramatic surroundings. The hotel is all-inclusive and home to the Tampu Restaurant. The restaurant is open to the public but features a guest-only section that feels very exclusive. One of the main benefits of staying at Sanctuary Lodge is its proximity to Machu Picchu and the once in a lifetime chance offered to see the site at the break of dawn.
As previously mentioned, I have seen Machu Picchu before, but never have I seen it at sunrise. The sight was so beautiful my iPhone even captured the beauty! The seventh wonder of the world is estimated to have been built in the 15th century (only discovered in 1911) for the aristocracy of the Inca era. The construction area was thoughtfully chosen to be surrounded by large significant cliffs and dense forest so that it would not be seen by outsiders. The Incas took rocks and granite stones and put them together with no mortar and few tools – a true wonder of architecture. Visiting post-Covid was a bit different than my first time around as you can no longer roam wherever you want, and must follow a trail. Nonetheless, the experience was as special as ever. After exploring Machu Picchu, I do want to emphasize that for those who want to visit, it is better to go sooner than later in life as there is a lot of walking and it can feel physically demanding.
Ending out our adventure in Peru, we spent two days getting a taste for Cusco from Monasterio, A Belmond Hotel, Cusco. The hotel was once a monastery and is now a national monument right off the city square. The rooms surround a charming courtyard and are decorated with a distinct Andean influence. Home to one of Cusco's finest collections of eighteenth century colonial religious art, I highly recommend joining in a guided Art Tour accompanied by the hotel's expert of religious art.