In mid-April, during the off-season for tourists, I had the opportunity to accompany a friend on a business trip to Copenhagen. It was an exciting experience for me since it was my 92nd country visited. Later, I traveled solo to Stockholm, which marked my 93rd country visited. I was particularly excited about this trip since I have a client who plans to visit these countries in the summer and he's an active guy who loves exploring new places. If you're seeking an active destination with room in your itinerary to freely explore, I highly recommend visiting these cities as soon as possible!
Both Copenhagen and Stockholm are extremely easy to navigate, with many people speaking English, and Sweden being almost entirely cashless. The cities are flooded with public park space, and the atmosphere is laid-back and relaxed, unlike the constant rush of New York City. You will not find yourself running for the train here. The Swedish concept of fika runs deep, which means to take a break and have a cup of coffee or tea, often accompanied by a pastry or a sandwich. Fika is a social institution in Sweden, and many people take fika with friends, family, or colleagues daily. It's not just about the coffee or food, but about taking a moment to relax, socialize, and enjoy life. I took this to heart by making sure I took time to pause every day and enjoy what was around me, versus rushing off ot the next thing on my list.
Hygge, on the other hand, is a Danish word that refers to a feeling of coziness, warmth, and contentment. It's about creating a cozy atmosphere and enjoying the simple pleasures of life, such as lighting candles, drinking hot chocolate, or snuggling under a blanket. Hygge is all about creating a sense of comfort, intimacy, and well-being in your surroundings. I was so taken by the idea that I even bought a magnet to take the feeling home with me. Despite their charm and accessibility, these cities are still relatively undiscovered by tourists, so if you have the chance, go and experience them for yourself.
Copenhagen
Like I said before, Copenhagen is a city that is easy to explore on your own, ideal for the independent traveler, with a wealth of culture and attractions that can be visited within 3-4 days. The city's canal system is reminiscent of Amsterdam with a similar heavy biking culture which, I would argue, is stronger in Copenhagen. Cycling is more than popular in Copenhagen; it is a way of life. In fact, I learned there is a surcharge of 180% on cars, which encourages the use of bicycles as the primary mode of transportation. It is not uncommon for the average Copenhagen resident to own two bikes. Furthermore, Copenhagen is on a mission to become the world's first carbon-neutral capital by 2025, and it's evident in everything they do. Electric cars, buses and boats are prevalent, and shoppers are required to buy reusable bags if you don't bring your own shopping bag. Both cities are surrounded by water, and that water is clean enough to swim in and even drink!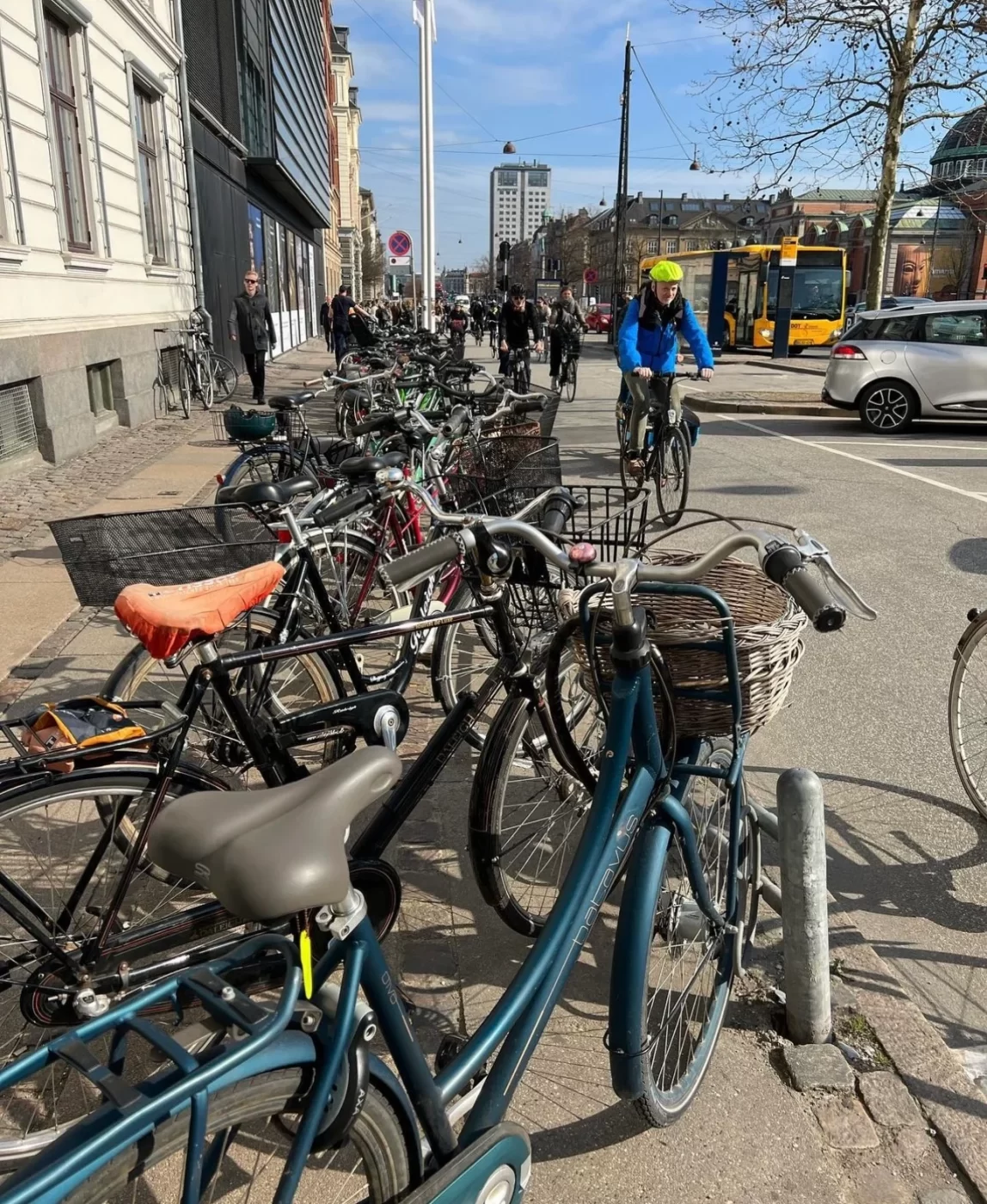 When it comes to exploring a new city, I am usually the type who likes to start with a guided tour. In Copenhagen however, I quickly realized the city's public transportation system is nothing short of incredible. To make the most out of my visit, I opted for a double-decker, hop-on-hop-off tour, which allowed me to explore the city at my own pace. I discovered the Copenhagen Card, an 'all-inclusive' card that covers admission to 40+ attractions in the city and free either unlimited public transportation including transportation to and from the airport or the double-decker bus. The city has a thriving food scene with several Michelin-starred restaurants and is particularly known for its fresh seafood given its water-front location. The Tivoli Food Hall is near the popular Tivoli Gardens amusement park and is a great place to try a little bit of everything (I had some pretty good Mexican.) There is an array traditional Danish dishes alongside a mix of international cuisines in a fun, lively atmosphere.
I plan to put my client in Villa Copenhagen. My friend's business partner happened to be staying there and I knew it would be a perfect fit. The hotel is housed in a historic building that was once the Central Post & Telegraph Head Office. Overall, the hotel's mix of contemporary design and historic charm perfectly represents Copenhagen's modern yet traditional atmosphere. One of the best features of the hotel is its location, which is very convenient as it is situated near the Tivoli Gardens, the Meatpacking District and the train station.
Stockholm
The Grand Hotel Stockholm is also within walking distance of the train station (15 minutes) and sits in a beautiful waterfront location overlooking the Royal Palace and Stockholm's Old Town, Gamla Stan. Since 1874, the hotel has been a hub of historical significance; frequented by celebrities and the venue of the very first Nobel Prize ceremony. The Nobel Museum is located less than half a mile from the hotel and is a neat place to visit while staying. The hotel's elegant rooms and lobby feature frescoed ceilings, and it is also home to the award-winning Nordic Spa & Fitness and the classic Swedish Veranda restaurant, famous for its traditional smörgåsbord. I can attest to the spa as I sat in the sauna every night after a day of walking. To put it simply, the Grand Hotel Stockholm is so very grand. The staff set this experience apart for me and on day two I felt like I lived there.
Similar to Copenhagen, I didn't feel the need to plan my days too structurally. The hotel's concierge was extremely helpful and sat down with me upon my arrival to plan my three-day itinerary and assist with bookings. In Stockholm, I chose not to do a bus tour since everything was conveniently located within a central area. However, for those who choose to do a bus tour and/or want to utilize mass transit, the hotel is a perfect base. Instead, I opted for two boat tours including the Under the Bridges tour which passes under twelve bridges and passes through the lock that connects the Baltic Sea to Lake Mälare. The archipelago boat tour explored the city's numerous islands, many of which host the summer houses of locals, and a small, charming town you could get lost in for the day. The boat tour only explored a small number of the 30,000 islands in the archipelago.
There were two attractions that surprised me in the city; the ABBA Museum and the Vasa Ship. The ABBA Museum is located on the island of Djurgården and showcases the group's history, music, costumes, and instruments through interactive displays, singing and dancing holograms of the band members and realistic sets of their recording studios. I sang my way through it! The Vasa Museum is also located on the island of Djurgården and I was initially hesitant to visit given its overwhelming popularity and the fact that it's essentially just a ship. However, the experience was breathtaking, especially given the context. The museum is dedicated to the Swedish warship Vasa, which sank on its maiden voyage in 1628, just one mile off the dock. The ship was salvaged in the 1960s and is the only surviving 17th century ship of its kind in the world. Inside, you can see up-close the level of detail and craftsmanship that went into its construction as well as the historical background of the ship's fateful voyage and the efforts to salvage it from the bottom of the harbor. The museum is a must see for maritime and culture lovers alike. Another notable attraction was the Nobel Museum, located less than half a mile from Grand Hotel Stockholm. The museum features exhibits about the Nobel Prize, its history, and winners as well as their personal belongings, such as the manuscripts and laboratory notes of famous scientists and the clothing and accessories worn by prominent writers and peace activists.
In summary, these are wonderful walkable cities that would satisfy historians and foodies alike. I highly recommend these cities as more than just a port stop on a cruise.
March 2023