"The thing that is most beautiful about Antarctica for me is the light. It is like no other light on Earth, because the air is so free from impurities. You get drugged by it, like when you listen to one of your favorite songs. The light is a mood enhancing substance."
– Jon Krakauer
Antarctica is a trip to the unknown. When the ship starts to sail down the Beagle Channel, leaving Ushuaia, the southernmost city in the world behind, things start to change. There are no trees, no electricity, no cars, and no people. You enter a dream world of different hues of light as you head further south – blues, grays, whites in soft tones. The air is fresh, clean, and pure. You notice sea birds such as petrels and albatrosses playing in the ship's waves. You see hundreds of penguins, black and white, as they offset the blue ice. As you scan the horizon, you see and hear the spout of a mighty humpback whale. You witness an Antarctic Safari – beautiful creatures in their extraordinary habitat.
Going to Antarctica is Epic Travel. It is high on the list of the well-traveled to capture their 7th continent, but it is much more than that. You will find nature lovers, cruisers, photographers, birders, adventurers, and the one thing they all have in common is how deeply they care about this planet and beyond.
I sailed with Abercombie & Kent (A&K) on their Total Solar Eclipse cruise from November 27th – December 13th. This trip was planned many years ago to be in the precise position to experience totality – when the moon passes between the sun and the earth and blocks out the sun.
This expedition started in Buenos Aires at the Palacio Duhau Park Hyatt. This hotel is a gem in the heart of Buenos Aires. After two days exploring Buenos Aires, we took a charter flight to Ushuaia, 3.5 hours south of Buenos Aires. After a lovely lunch at a nearby resort, we were finally able to board the ship! A&K chartered Ponant Le Lyrial for this Antarctica expedition. One of four sister ships – Ponant made this ship to 1C ice-class standards. It has a reinforced hull and special stabilizers to handle the very mighty Drake Passage, one of the most treacherous bodies of water in the world where three oceans meet – Pacific, Atlantic, and the Southern Ocean.
We had smooth sailing for a few days. It was Drake LAKE (a calm ocean) and not Drake SHAKE (20+ foot waves)! We had to detour east to be in the exact position for the path of totality to witness the Total Solar Eclipse.
This path of full totality occurred on December 4th at 4:07 am. It was awesome to see the skies turn dark for 90 seconds while the moon passed in front of the sun and completely covered it. (There is 24 hours of sunlight this time of year in Antarctica). While there were clouds, the total solar eclipse did not disappoint. There were cheers from all as we watched in AWE of day turning into night and back again. This rare phenomenon in Antarctica was only witnessed by 3,000 people in the world – quite an extraordinary event. The next one is April 20, 2023, and the best place to view the next Total Solar Eclipse will be here in Melanesia, Oceania cruising in the South Pacific Islands – another extraordinary place on our planet that is a must-see for many travelers.
We were finally able to do our first zodiac tour (a rigid inflatable boat that seats about 8) near the South Orkney Islands. Each morning, our expedition leader Suzana, who has been working in Antarctica for more than 30 years, woke us up with her gentle voice in the in-room intercom – "Good Morning, Good morning, outside the weather is 32 degrees Fahrenheit, and there is no W.I.N.D." She would spell out W.I.N.D. as this was not a word to be uttered at any time while in Antarctica! On our first zodiac tour, we were welcomed by hundreds of Adelie penguins. These penguins have black faces and white circles around their eyes. They are the most comical and clumsy. Their antics made us all laugh as they made their way along the "penguin highways." It was pure joy to watch them make their way to the sea and back to their nest, finding their mate for life as they wait for their eggs to hatch and bring another generation of penguins to life.
The other amazing feature about Antarctica is the ICE. Imagine ice the size of a New York City block or a sideways skyscraper floating by you. The immensity is staggering and powerful. On our way to the 66-degree mark of the Antarctica Circle, it began to snow hard, and the ocean was starting to FREEZE. It created the most beautiful patterns on the sea. The storm was getting worse, and the Captain announced he was turning back. It was the furthest point south we would go. I had this intense feeling of sadness about not going further. While grateful for getting this far, I may have to start planning a trip to the South Pole. Here's one option with Geoffrey Kent himself for December 2022.
Onboard we heard from a fantastic storyteller and historian about the expeditions to the South Pole of Ernest Shackleton, Roald Amundsen, and Robert Scott. These heroic tales are fascinating for all explorers to the polar regions. Highly recommended reading for all travelers.
Each day we had two zodiac tours and landings to visit the Shetland Islands and Antarctica Continent. It was very exciting to finally step on the continent! We had some hiking and free time to explore. I was always the last to get back on the ship. I loved exploring the land – terra firma – at the bottom of our planet. It was so pure. We watched two sparring seals and thousands of penguins. I talked to Patri, one of the ornithologists (bird expert) on board who told stories about the Adelie Penguins and their mating habits. I now can tell the difference between Gentoo, Adelie, and Chinstrap penguins. I discussed with the resident geologist on board the future of our precious earth and the effects of climate change (not good). I took tips from the special guest wildlife photographer, Michele Valberg (you should follow her on Instagram), about being patient and present while patiently waiting for THE shot. When we weren't exploring or eating and drinking, I attended every lecture on board. I completely geeked out with Susan Kilrain, a former astronaut who told us her life story that led to becoming an astronaut and a two-time space shuttle pilot. Her insights on the future in space travel are very exciting and optimistic. She explained how Antarctica was like space, only with better bathrooms and much better food:
"You travel in a small group, on a mission where we leave nothing behind, suffer sea/space sickness, wear bulky suits in a place that has a treaty for peaceful exploration!" She spoke very optimistically about the billionaire space titans and exploring space to better our lives here on earth. She was inspiring.
While we did have an easy several days of sailing, the Captain informed us at one of our daily evening recap and briefing sessions that we would be venturing into a storm that could see some rough seas. As predicted, we had several hours of 20-foot waves and 50 knot winds. There were far fewer guests in the restaurant and sanitary bags were placed in the hallways. I was looking forward to this! I thoroughly enjoyed losing gravity while walking around the ship and loved when the swells completely washed out the windows while eating breakfast. I would expect nothing less in Antarctica!
Because of my interest in sustainable travel, I was invited to see how the ship kept waste at a minimum and how the protocols from IATTO, a member organization founded in 1991 to advocate and promote the practice of safe and environmentally responsible private-sector travel to Antarctica, were followed. We were allowed into the service areas of the ship where all the waste management was contained. It was an immaculate space, and I was very impressed to see how "leave no trace" was followed. Ponant has made a pledge to protect the oceans and polar regions they visit. It is unfortunate that there were single-use plastics in the bathrooms for personal toiletries and bottled water on the ship. They are working towards removing them but sadly it has not yet happened. There is no place for single-use plastics in travel. We can stop this.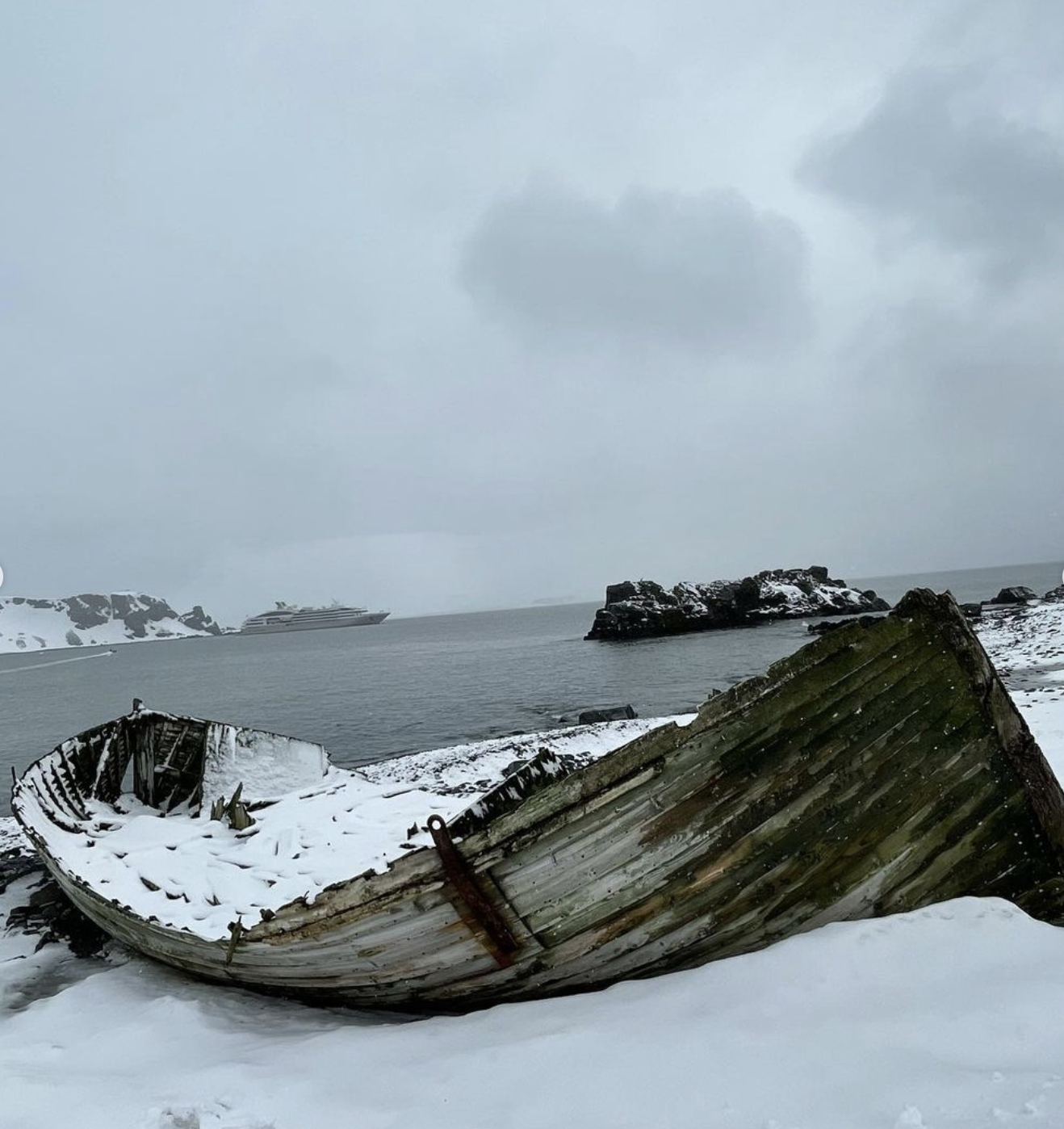 When I was not exploring the 7th continent and not eating or drinking (daily feeding times included breakfast, lunch, afternoon tea with specialties like Crepes Suzette and cocktail hour with Pata Negra (carved Iberian ham), three-course dinners, and of course after-dinner drinks at the bar), I was at the gym on a treadmill with ocean views or more often in the steam sauna. There was also a spa for massages, facials, and hair services. After a cold day out, nothing felt better than steaming in the sauna.
A&K kept us protected. They made sure we glided on and off the zodiacs. The team was extraordinary in keeping us informed of everything necessary for a safe yet magical trip. The time to go to Antarctica is now, don't wait. I also think this is a perfect trip for a family during the holidays.
A&K provides parkas, backpacks (for you to keep) as well as boots and waterproof pants to borrow. On ship, it is actually cozy and warm, so you don't need wool or cashmere turtleneck sweaters. Casual dress is fine, but you may want to bring a few nice things for Captain's Dinners to start and end the trip.
Bring your favorite traveler. I saw father and son, mother and son, sisters, couples, friends, and solo travelers. Everyone is super friendly and supportive of each other.
The Ponant ship was luxurious and the Captain and crew were always impeccably dressed as you would expect from a 5-star French hotel. The food was over-the-top. No one knows how much French butter was on board that ship and the most delicious bread was baked every day. There was a wonderful variety and there were always separate vegetarian options. There were two restaurants onboard and I spent all my meals in the more formal, full-service dining room on the 2nd deck that was draped in the most delectable light – day and night. Breakfast, lunch, and dinner were superb, and the French kitchen staff made you feel as if you were in France. It's a sublime way to visit Antarctica.
Ponant cabins – while all the cabins used for Antarctica have a balcony, they start at 200 sq ft. There are butlers for suites but Peter, my attendant who took care of my deluxe cabin, did so much to make my stay special. The cabin came with a Nespresso machine and tea kettle, and he noted which coffee and tea I preferred and made sure I had a supply. Rooms were cleaned twice a day and there was always a fabulous treat every night by the supremely talented pastry chef on board. The service, something we have all missed during the pandemic, was outstanding. I would not hesitate to recommend a Ponant sailing or an A&K Expedition – or both – you will have a magical trip!
Straight Talk: while I would highly recommend this A&K trip, there were some things to know:
There was no polar plunge. I was disappointed, but I know many of you are quite relieved.
No kayaking. It is too risky, and specialty trained kayak masters are mandatory for this activity.
Overall, the active level was 1-2 out of 5. If you want to explore the continent more actively, there are other expedition companies that can accommodate you.
If you would like more information, please email me at [email protected] and check out more photos on my Instagram.
"No one will protect what they don't care about; and no one will care about what they have never experienced"-David Attenborough 
January 2022