The truth is, India wasn't high on my list of places to travel. I have always said I'll have to go sometime but didn't know much about the country and obviously couldn't anticipate how perspective-altering the trip would be. When the opportunity to join the almost two weeklong Educational Study Tour of India with Abercrombie & Kent was extended to me, my colleague Jim (who journeyed with A&K to Peru) told me I would be crazy not to go. The well-traveled know how exotic and invigorating the country is, with its new smells and world-renowned traffic – but a lot of people can still be closed-minded about visiting a country so unfamiliar.
With that being said, I cannot begin to tell you how much I recommend taking on a new country with A&K. Every detail of the trip is taken care of and on top of that you are able to learn and appreciate the intricacies of the culture you are witnessing from a Tour Director who has experienced it firsthand. Our Resident Tour Director, "Sunny" had us in tears when we left. On long drives between cities, he would share personal stories about his family, his career as a professional cricket player, the recent engagement of his oldest daughter along with the history of arranged marriages, the caste system and Hinduism.
Every single day of the thirteen-day trip was full of notable sights, sounds, experiences and landscapes, worthy of a story, and below I want to share a few snapshots of my favorites. Additionally, we flew American Airlines business class air which was quite nice. The seats were comfortable and we were able to experience the new Casper bedding which was incredible.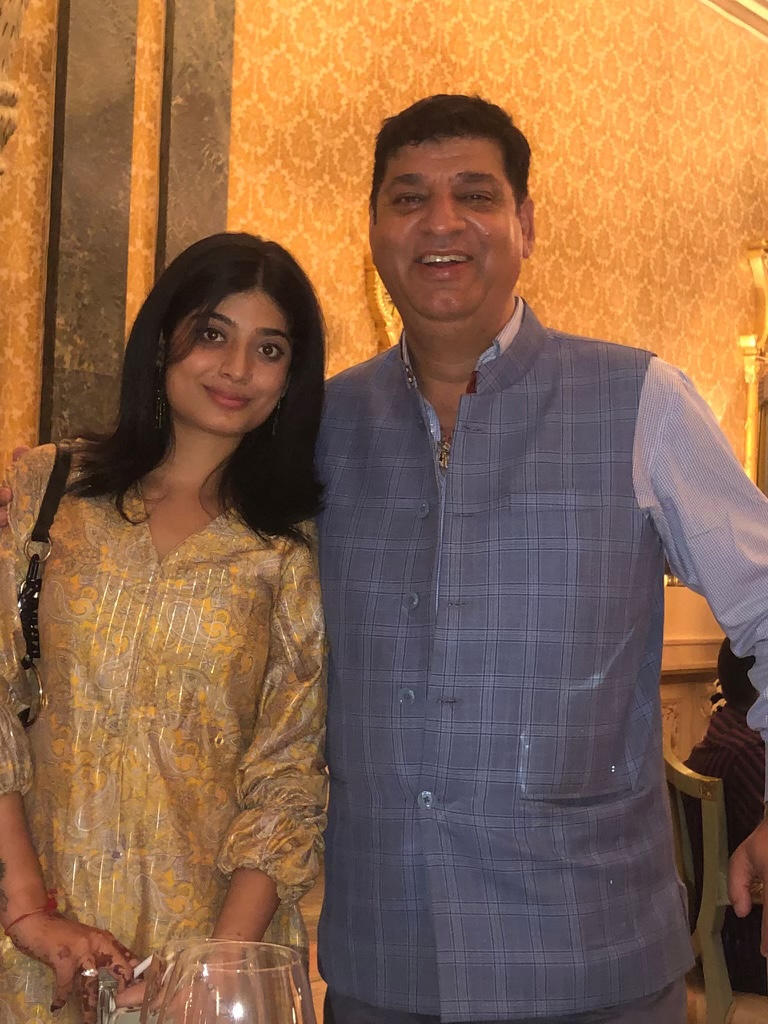 Arriving in Delhi
Upon arriving at Delhi International Airport, we were welcomed by a noisy melting pot of cars, rickshaws, bikes, and motorbikes with a feeling of celebration in the air. The country was gearing up for Gandhi's birthday celebration which is typically observed with prayer services and tributes all over India. One thing A&K always does well is pull the curtain back on every country you visit. For every ornate Mosque we gawked at, we saw back roads and busy streets. Next to a Sikh temple, we went to a community kitchen that fed over 6,000 members every day, fully operated and funded by donations. We were directly escorted behind the scenes to see lentil stew being prepared – something we would have never seen on our own. We additionally visited the Gandhi Smriti, where Mahatma Gandhi's life ended, and Jama Masjid, the royal mosque built by the Mughal Emperor, Shah Jahan in 1956. I thoroughly enjoyed the bicycle rickshaw where we got epic views of stand still traffic and an overhead view of tangled wires – a perfect introduction to India.
Udaipur
The romantic city of Udaipur is considered the City of Lakes as it is surrounded by seven lakes on the shores of Lake Pichola. After a boat ride we were greeted with fresh fruit and tasty treats (as we always were) at the new Raffles Udaipur which sits just outside of the city. As are most Raffles properties, the hotel was amazing. All the suites were massive with views of the lake and the hotel has a stunning new spa. The main attraction in Udaipur is visiting the City Palace, which is a complex of buildings built by various Indian royalty. We saw a vast collection of paintings and mosaics, along with a collection of highly rare crystals. Udaipur was also home to a very special experience as we were able to visit Sunny, our Resident Tour Director's family home. His wife welcomed us in a traditional sari, and we met all of the family members while enjoying homemade treats, wine and beer. A wonderful and authentic Indian experience.
Jaipur, The Pink City
After a comfortable flight from Udaipur we arrived in Jaipur, called The Pink City because of the red hued stone that was used to construct a lot of the city's buildings. It was also said the king had the entire city painted pink in an effort to impress the Prince of Wales on his state visit in 1876. In Jaipur, the highlight was the sunrise cycling tour. We cycled down narrow streets dodging cars, cows and pedestrians while watching the locals set out their vegetables for the day in market stalls. Our group stopped at a local park for "laughing yoga" and fed a few cows at sunrise. We stopped for chai masala tea and mango lassi before heading back because if we waited any longer the streets would be unpassable.
Ranthambore National Park
Our time in Ranthambore National Park was home to my favorite hotel of the trip. Six Senses Fort Barwara sits an hour away from the park, fully immersed in nature, in a fort that has been converted into a sanctuary unlike anything I'd ever seen. The hotel is spectacular and new, but still incorporates the regal ambiance of a temple dating back 700 years. I recommend this hotel for people who value relaxation and want to immerse themselves in nature for an extended amount of time. An even bigger reason to stay at this hotel is the chance to see a Bengal tiger – usually spotted between three or four game drives. After a night of exploring the premises, we rose early for a game drive into Ranthambore National Park ourselves, but were met with rain instead of a Bengal. We were also told to look out for hyenas, jackals, sloth bears, wild boar, and a lot of other animals you only dream of getting to see in real life.
Agra
Agra was where we went to see one of the seven wonders of the world, the Taj Mahal. The glittering mausoleum was built as a memorial for Mughal Emperor Shah Jahan's favorite wife who died in 1631. The structure took twenty-two years to complete and is a monument of perfect symmetry, intricately carved screens and some of the best inlay screens you will ever see. Every single room at our hotel, Oberoi Amarvilas, had a view of the Taj Mahal. Putting on my shoes, I couldn't believe that I was staring at such a world-famous mirage from my window. One thing I loved about staying here was being able to see the Taj Mahal at all different times of day as the changing sun made the structure a different color as the day passed. The experience was surreal. While everyone was trying to get the perfect photo, we had to stop and take time to appreciate the architecture and the beauty of the surrounding gardens.
Varanasi & the Ganges
After a long travel day to reach Varanasi, we took a private boat cruise down the very sacred Ganges River. We were able to see Varanasi from the water with views of the Durga Temple, the 18th-century Ramnagar Fort and people living out their everyday lives. There was a very sacred feeling being here that is hard to put into words. Thousands of people bring their deceased loved ones to this river every day to bathe before cremating them on the shores. The hotel, Brijrama Palace, sat right off the shores and at night we were able to smell the incense of funeral pyres while Hindu priests attended Puja, their evening prayer ceremony. We were given the opportunity to attend the ceremony of thanksgiving which is a nightly ritual, lively, but performed and observed with great respect. While I didn't quite know what was happening, the soundtrack of drumming and chanting made for an emotional experience I am thankful to have humbly observed.

November 2022